Best Cell Phones without Internet Access in 2023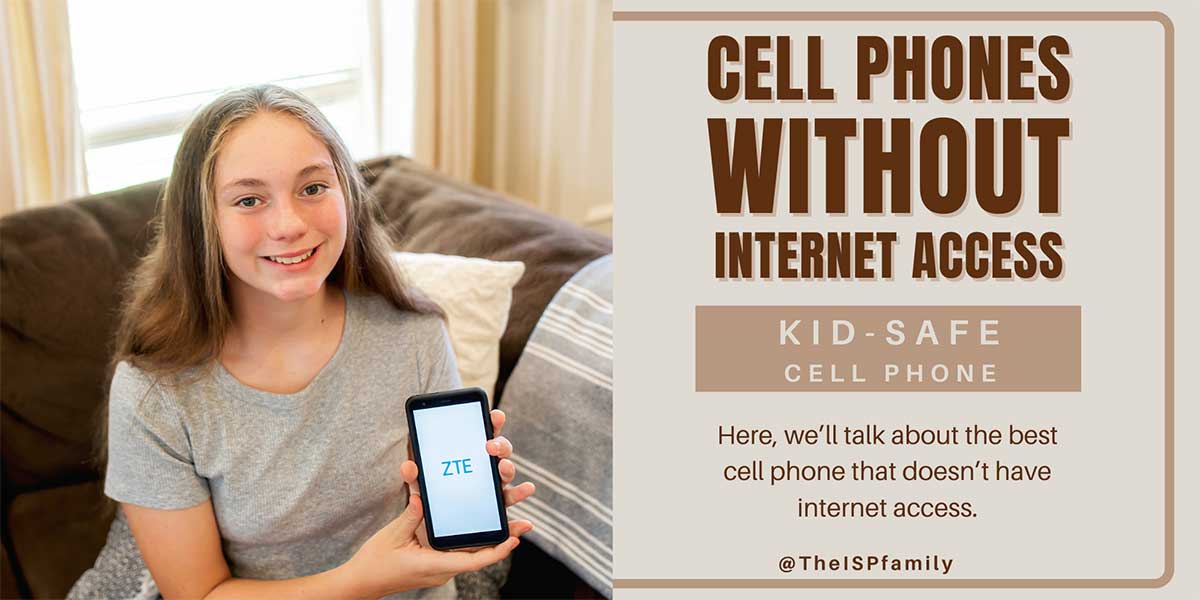 A survey done in February 2021 found that almost half of the people who filled it out said they ended up spending between 5 and 6 hours a day on their phones, not counting the time they spent on their phones for work. Another 22% of those who answered said they spent an average of 3 or 4 hours daily on their phone.
So, what does it mean? Do we use our phones? Or are they just using us? Smartphones and mobile phones that don't have the internet will still be around, but you could need the one without internet access without knowing it.
The great thing about phones that can't connect to the internet is that they make us feel closer to each other. Here, we'll talk about the best cell phone that doesn't have internet access.
The 10 Best Phones without Internet Access
You've come to the correct spot, whether it's a phone that your kids can use or a phone for a senior family member. We're here to help pick the best cell phones without internet access.
1) Nokia 3310 Phone without Internet
The 3310 can't keep up with our always-connected lives because it doesn't have Wi-Fi, apps, or a touchscreen. However, its low price and month-long battery life make it a good choice. This isn't a contemporary take on a beloved vintage phone; it's more like a new take on an old buddy for £50 (about USD $65 or AU$85). The most important thing is that this device is entertaining to use since that is distinct enough from smartphones which are interesting to me.
The Nokia 3310 isn't a replacement for your iPhone, but it's a dirt-cheap feature phone that old-school Nokia lovers will enjoy for its nostalgic charms.
2) Sunbeam F1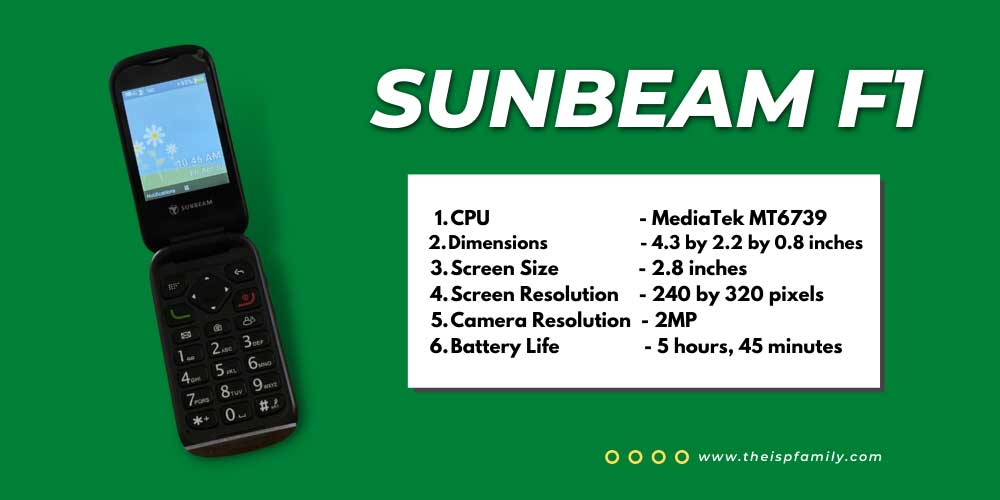 Many alternatives are available if you want a simple flip phone. And the Sunbeam F1 might be one of them. All the tools you need are in the Sunbeam F1 unlocked phone, yet there are no unnecessary gimmicks. It is a Voice over LTE (VoLTE) phone developed particularly for traditional Kosher people who don't want to get drawn into the internet.
However, this phone is insufficient to justify the $195 price. Many simple flip phones still exist, and many of them come equipped with extra features. But this phone has no games or other apps for fun. There is no doubt that the Sunbeam F1 is meant for a technological minimalist or for youngsters who cannot use advanced features.
PROS
Well-thought-out design
Having a solid build
Great for privacy
Earpieces with a high volume
There are three levels of limits on feature
CONS
It doesn't have band 71 for T-Mobile
Long-term support isn't guaranteed.
3) Blu Tank II T193
The Blu Tank II T193 is a great phone to have on hand for a crisis, vacation, or backup phone. Simply said, it just makes phone calls and sends text messages. This dual-SIM, 4×4 phone costs $19.99 unlocked and therefore is easy to buy on the spot if you only want to make calls.
A more costly and carrier-sold phone could be faster and more efficient than an essential unlocked phone, but it doesn't mean they're better. The unlocked phone features a huge screen, lasts a long time, and has good call quality. Even though it doesn't have an Internet connection, this is a good phone to offer to a relative who is visiting, to keep in the car, or to try giving to a child in case of an emergency.
PROS
Having a longer lifespan for the battery.
Dual SIMs
Big screen
Reliable call quality
CONS
There isn't a WAP browser
Buggy SIM slot.
4) LG B470 3G
Last decade, flip phones were only available on feature phones, which we call non-smartphones. Nowadays, there are modern flip phones on the market—yet some folks still prefer the old-school models. The LG B470 prepaid basic flip phone is a good choice if you want a flip phone with some nice extras. It has an amazing 1.3MP camera, including zoom, customizable effects, and Bluetooth. It's even capable of downloading and playing multimedia assets like music and video.
You must be an AT&T or T-Mobile customer to use the LG B470 3G flip phone since it is a GSM unlocked phone. And from an aesthetic point of view, there are better flip phones that don't have the internet on the business.
PROS
Setup that is quick and simple, as well as user-friendly
Long-lasting and very dependable
An enhanced audio mode for enhanced hearing protection and comfort.
Has the ability to flip the phone to answer or end calls with the flick of the phone.
CONS
Using this card with any other provider but ATT is impossible
5) Kyocera DuraXV LTE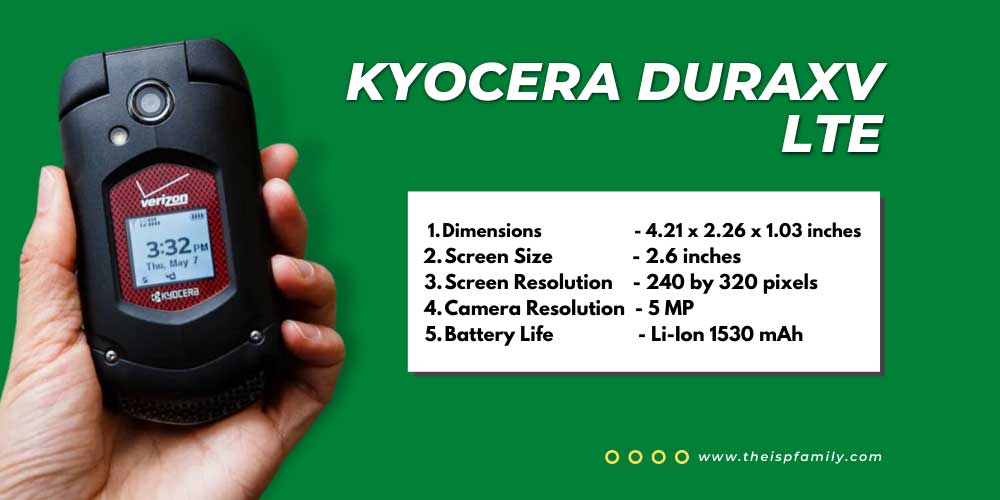 The Kyocera DuraXV LTE ($264) is Verizon Wireless' hardest, harshest, no-nonsense voice phone if you're a field operator or simply a freak of nature. Aside from that, it's the most flexible to different networks and the most secure in terms of compatibility with new ones in the future. Because of its reliability, the DuraXV is costly. With its weather-resistant qualities, it's best suited to people who spend a lot of time outside.
The main problem with the Kyocera phone is its high price tag compared to all other basic flip phones without the internet. Otherwise, it's a fantastic flip phone to keep on your body.
PROS
Durable and resistant to water
Flexible network coverage is available
Flashlight functionality
Large capacity for storing
Display with a high-contrast
6) Plum Ram 7 – 3G
Plum Ram 7-3G is the perfect option for seniors and children searching for the cheapest mobile phone without internet connectivity with unique characteristics. This phone is compatible with any GSM network and can connect to 2G and 3G speeds. The 5-megapixel camera on the back of the Ram 7 3G is quite impressive. With a camera like this, the user of this phone would be able to shoot high-quality images and movies. Moreover, even though it has a rugged feel, it is lightweight.
On the other hand, the predictive text fails to recognize some of the most basic terms. A 64 MB RAM storage isn't enough for everyday use on the phone, though.
PROS
Light Weight
Ability to insert Dual SIM
The external Memory expansion slot is huge.
Water Resistant
CONS
Too much thicker and bigger for a cellphone
7) Gabb Phone
For only $99, parents can give their children a taste of what smartphones are all about without worrying about exposure to the dangers of social media or even the wider internet. It doesn't have internet, social media, or online gaming access. This phone works on the 4G LTE network and has its own payment plans. Besides calling and texting capabilities, it features a camera, a calendar, a calculator, and a clock; it also has a file manager and settings. Unquestionably, it's one of the best smartphones that don't have an internet connection.
PROS
Has GPS
It offers many safety features to keep kids safe.
Affordable
It feels and looks like a phone.
It has an 8-megapixel camera for selfies, photos, and videos
CONS
Both the connection and the call quality are nothing special.
There are a few functions that the Gabb phone does not have, such as geofencing or contact tracking, and there is no parental control software that can be downloaded to fill in the gaps. The Gabb Phone's build quality is poor. It's made of flimsy plastic and has an ugly pattern on the back. It's also not water resistant.
8) Samsung Galaxy J2 Pro
It's another internet-free smartphone equally suited for older citizens and school-age children. The new Samsung Galaxy J2 Pro is just an entry-level smartphone with an affordable price tag, much like its predecessors. With a 5-inch Super AMOLED display and a Qualcomm Snapdragon 425 quad-core CPU, it's a large smartphone.
The back camera is naturally positioned at the entrance level, as is the front-facing camera. To compensate for this, the lower-end model incorporates an optically stabilized and autofocus lens with an aperture of f/2.2. Moreover, the camera has a single LED for low-light photography, HDR, and Panorama settings. It's a no-brainer that smartphones should have video capabilities, but they're limited to 1080p at 30fps.
PROS
Compact and lightweight
New and different things
Amazingly long battery life
Come with fun features like the Ultra data saving mode and the S Bike mode.
CONS
Performance about average
Cameras are fine for everyday use.
9) Light Phone 2
Light Phone 2 is a fantastic option if you're looking for a simple smartphone that doesn't have an internet connection. Making and receiving phone calls, sending and receiving text messages, and using the Light Phone II's primitive map program are all restricted activities on the device. When fully charged, the battery life on this phone is impressive, lasting up to 3 days on standby and 6 hours of call time. It also comes with 8GB of storage and a 2.8-inch screen, making it perfect for watching videos and playing games. It has high-quality speakers and noise-canceling capabilities.
This low-fi phone's purpose of helping you disengage is great, but it falls short owing to software limitations. The hardware experience is equally as faulty as the idea, with a slow keyboard and an unevenly lighted display.
PROS
Clean, simple design
Works with 4G calls
It is easy to sync contacts
Battery life of three days
It can be used on its own or as a second phone.
CONS
Slow to start up
A bit too small for the price.
10) Samsung Rugby 4
For your elderly or young family members, the Samsung Rugby 4 might be the ideal alternative for a flip phone without internet access. All GSM networks, excluding CDMA ones like Verizon or Sprint, are compatible with this cult-classic flip phone. And AT&T will stop supporting this phone for 4G services. As a person who spends most of their time in a rough setting, Rugby 4 is a great fit for your lifestyle.
The Samsung Rugby 4's ease of use sets it apart from competing devices. The design isn't exactly "cool," but that's not the point. A device as good as this would never rely only on superficial things like how it looks.
PROS
Great Price
Impressive Durability and Ruggedness
Fantastic Phone design
Secured Hardware and Camera
CONS
Not watertight
The ring cannot be heard with a lot of background noise.
Features To Look Before Buying Phones without Internet
You should remember other things while buying a cell phone without internet. Before choosing a phone with no internet connection, here are a few things to check.
1) Design
When choosing a new phone that doesn't have internet, personal preference is a big factor, both in terms of the software and the way it looks. Others choose a tough, sturdy phone with a few basic functions. Others will simply seek a vintage design or a flip phone for nostalgia. For kids, smartphones without the Internet might be the best option as kids love to imitate elders.
2) Functionality
You need to know who will use the phone before buying a phone with no internet access. It's also important to know what the phone will be used for. Look for senior-friendly features like big letters and emergency buttons if the phone is for the over-60 demographic. Moreover, button phones are absolutely perfect for elderly citizens as they are more accustomed to typing things. But what if the phone is for the kid? It's important that it's easy to use, has parental controls, and a smartphone without internet will be a better option.
3) Screen Size
If you purchase a phone that doesn't have an internet connection, make sure the screen is clear and broad. A wide, easy-to-read screen is a must for basic phones, primarily for children and elders.
4) Internal Storage
It is widely accepted that smartphones have more storage space than non-smartphones. So phones no internet access could be the better option if you need more storage. On the other hand, cell phones or flip phones need less storage space due to their lack of functionality. More storage for contacts and ringtones is a must-have feature for your ideal basic phone. This is because your phone's performance will suffer due to insufficient storage.
5) Battery Life
People know that basic phones without internet batteries last a long time. Running out of battery power while using your phone is the worst possible situation. That's why you should constantly ensure that your main phone has a healthy and long-lasting battery.
6) Cost
Phones without internet connection are inexpensive and easy to maintain. This is because of the fact that they only have a few functionalities and use basic technology to work. For this reason, you need to be sure that your primary mobile phone is inexpensive and within your budget.
Best Ones So Far
While I acknowledge that social media and the internet negatively impact our well-being, I don't believe we should fully give them up. Phones are a big part of our lives, whether we like them. And the Nokia 3310 is our favorite basic phone for making and receiving calls. Small, light, and easy to carry, this SIM phone is an outstanding example of a cellphone without the internet.
Even though they are hard to find, it is possible to buy a smartphone that doesn't have internet. Smartphones in this category include, for example, the Gabb Z2 and the Samsung Galaxy J2 Pro. Since these phones are hard to get, you could choose a phone that blocks the internet.
Final Words
We talked about the best Phones Without Internet Access today. We hope that the information we've given you will help. Taking everything into account, I think cell phones are the best option for people who don't have access to the internet. Thousands of phones are easy to use, so they shouldn't have any trouble with them.
That's all for today.
FAQs about Flip Phone without Internet
Was this article helpful?