Glo Fiber vs Comcast: Which Provider is Best For You?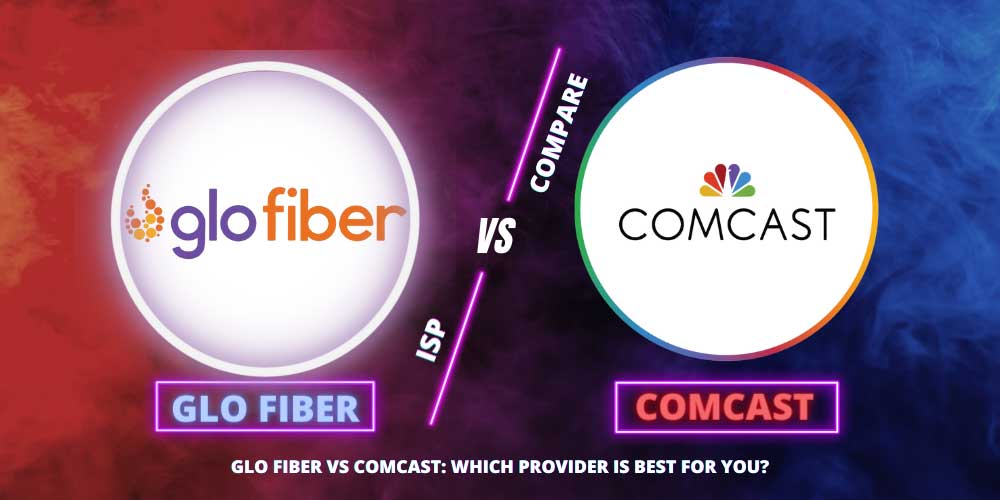 Glo Fiber and Comcast are the most famous, fastest, and most reliable internet service providers (ISP) in the United States. Here, you need to choose the best one to fulfill your demands. Glo Fiber services you to fiber optic internet, whereas Comcast is the US's largest cable internet service provider.
However, it will be easier to select the right option once you know Glo Fiber vs Comcast. In this regard, my writing is about 'Glo Fiber vs Comcast,' which can assist you in making the right decision.
So, don't skip, and studying continue!
Glo Fiber vs Comcast: Introducing these ISPs
What is Glo Fiber?
Glo Fiber is a friendly, reliable internet service provider in the US market that provides high-speed Internet. It is a new brand but backed by a century of experience. It brings the services to Virginia, Pennsylvania, West Virginia, Maryland, and Delaware with reliability, simplicity & power.
The team at Shentel created Glo Fiber which derives from the trust that everybody deserves a better Internet. Your sharing network speeds may fluctuate with traditional cable internet, but Glo Fiber provides a dedicated line for speedy Internet that is exclusively yours.
What is Comcast Xfinity?
Comcast is one of the biggest cable internet service providers in the United States. It also has bundle services that make it the leading internet service provider in the US. It is a more dependable and fastest internet service provider for the customer.
Moreover, Comcast is an available internet service provider in most parts of the US. It has a diversity of bundle options and a difference in the Internet.
Glo Fiber vs Comcast: What are the Comparing Issues?
When choosing an ISP (Internet Service Provider), the essential factors are availability, speed, price, plans, and internet connection type.
Glo Fiber and Comcast are both renowned internet service providers, so you need to know which option is best for you with compatible needs. It will help you if you know the comparison issues between them.
#Availability & Service Coverage: Glo Fiber vs Comcast
Glo Fiber has a limited coverage area, and the services are not available in all areas of the US. Some people think expanding its services takes more time. The most prominent coverage of Glo Fiber is in Virginia, Pennsylvania, West Virginia, Maryland, and Delaware. Approximately fiber internet service is available for 2.2 million US residents.
The Comcast service coverage area is quite larger than Glo Fiber. It provides services to about 40 states in the United States, with more than 20 million people. Its area coverage of Comcast is in California, Florida, Alabama, Mississippi, New Mexico, North Carolina, New York, Utah, Texas, Virginia, Michigan, Minnesota, and many others.
However, from the above discussion, it's crystal clear that Comcast has the most significant coverage area & larger customer bandwidth in comparison to Glo Fiber. If Glo Fiber aims to touch the customer bandwidth of Comcast, it is still a long time to go.
#Connection Type: Glo Fiber vs Comcast
When discussing Glo Fiber vs Comcast, one thing will attract your attention which is the internet connection type. It determines important factors like how speed your Wi-Fi is and whether you can get the same download & upload speeds.
You will get a cable internet connection with Comcast, whereas Glo Fiber provides a high-speed fiber optic connection. The cable internet is only sometimes dependable for you and may slow down in pick hours. It also gets affected by bad weather.
But, the Glo Fiber makes your smart home a little smarter with a reliable connection and better performance for all your connected devices.
Comparatively, fiber is the best connection type that provides uninterrupted connections even in rough weather or other interference. On the other hand, cable internet is also good, but you need available 5G home internet in your area to get it for affordability.
#Internet Speeds: Glo Fiber vs Comcast
One of the vital things to look for when comparing internet service providers is the speed they claim to provide. Speed is essential because you must ensure that you have much bandwidth to support your internet activities.
With Comcast internet service, you will get a speed of 15-1000Mbps, whereas the Glo Fiber internet data speed is up to 2 Gbps or 2000Mbps.
#Internet Plans: Glo Fiber vs Comcast
You need to know the Glo Fiber vs Comcast internet plans to select the right one. Comcast internet plans range from 25 Mbps to 2000 Mbps, whereas Glo Fiber has plans up to 2 Gbps or 2000 Mbps.
Comcast has many plans available in all areas of the United States. And Glow Fiber provides limited plans with a restricted area but has more considerable access to the customer.
#Price: Glo Fiber vs Comcast
Price is crucial regarding the issue of choosing an internet service provider. While an internet service provider must offer a higher speed, it is also essential to ask about the service price so that it doesn't leave your pocket money empty at the last of the month. The monthly cost depends on the internet type and usage quantity.
As Comcast offers a wide variety of plans to its consumers, the plans begin with down speeds of 25Mbps for $30/month. But, it could be better for everyone who wants to use light-speed Internet.
The Comcast 1 Gig plan price is about $90/month. It is imperative to note that the price may vary with the area, and there is a possibility of pricing more than this.
Comcast has a data cap option. You need to pay an extra $10 for every 50GB of additional data used. But, accurate to say nobody likes the data cap option. If you want to skip the data cap option, you can go with Glo Fiber internet.
Here, one question arises: How much does Glo Fiber cost? To answer this question, first, mention that you will get the best gift with Glo Fiber this season. Now, the faster Glo Fiber provides you 300Mbps or higher Internet free for a month. Therefore, the growing network of Glo Fiber makes your home smarter and highly connected every day.
To enjoy streaming your favorite entertainment options, you must pay $90, the starting price. Recently, the Glo Fiber TV package range is from $45 to $185 per month. It also provides various bundles like the Internet, TV phone, and cloud digital video recorder service, and those items price range from $165 to $265/month.
The Glo Fiber has no data caps or allowance, which is the better option for everyone. Therefore, you can pay free fees for your data speeds from 300Mbps to 2Gbps.
Is Glow Fiber better than Comcast?
Indeed, Glo Fiber is better than Comcast because it is super faster and less expensive than the Comcast service. The Glo Fiber provides an uninterrupted, reliable & dedicated fiber-optic connection and also has symmetrical download & upload speeds.
Glo Fiber's price is straightforward and has no contract or hidden fees like Comcast. So, Glo Fiber is better than Comcast.
Glo Fiber: Why do you choose it?
Glo Fiber is a simple, fast & reliable internet service provider. It provides some unique facilities you may not find with cable internet service. Let's know the reason behind choosing Glo Fiber.
1. Designed for the Internet
You will find the Glo Fiber generated mainly for the Internet, where the Internet was an afterthought for the traditional cable internet.
2. Committed Connection
With traditional cable, you are fundamentally sharing your connection & speed with everyone nearby, whereas Glo Fiber connection is all yours.
3. Symmetrical Speeds
With Glo Fiber, you will find your upload speeds and download speeds are equal. So you can quickly call, chat, and conference with your friends. But with cable internet, the upload speeds are so low.
4. Far-Reaching
Glo Fiber has a far-reaching signal rather than other methods without the assistance of amplifiers, which means it has fewer weak points.
5. Easy Installation
The installation process of Glo Fiber is simple and inexpensive compared to other internet services.
6. Technological Advancement
Glo Fiber provides fast & easy upgrades because any latest technological advancement happens in the office. It is not much of a changeable line. Therefore, Glo Fiber is a future-proof line for the customer.
7. Reliable internet
With Glo Fiber, you will get the best data speeds, 2000 MBPS, and state-of-the-art fiber optics.
8. Simple Pricing
Glo Fiber internet pricing is so simple & straightforward that it has no contracts or hidden fees.
9. Continuous Service
You will get uninterrupted connections with Glo Fiber, even in bad weather or electromagnetic interference.
10. Simple and Easy to Use
Glo Fiber has no maintenance cost, simple to use, and has easy set-up options. It can supply wall-to-wall Wi-Fi coverage for your entire family.
Wrapping Up
Glow Fiber and Comcast are both popular internet service providers in the US market. Therefore, you need to know their comparing issues to choose your needs. Our above discussion will assist you in removing the confusion and selecting the best option.
So, follow our above discussion to choose the right one from Glo Fiber vs Comcast!
Was this article helpful?