Metronet Vs Mediacom: What's the Exact Difference?
Numerous renowned service providers exist in the US, where Metronet and Mediacom are two. Metronet & Mediacom, both internet service providers, offer a wide range and variety of services & packages to meet the customer's demands. So, it can be challenging for you to make a better choice between them.
However, if you want to subscribe to a reliable internet connection or service from Metronet Vs Mediacom, it is essential to know the comparative discussion between them. Here, one question may arise: How do I compare them? In this regard, today's article is about "Metronet Vs Mediacom."
With the Metronet Vs Mediacom discussion, you will get an overall comparison between them to determine their reliability, speed, price, and customer support that will assist you in getting the better one.
So, stay with us and keep reading continuously!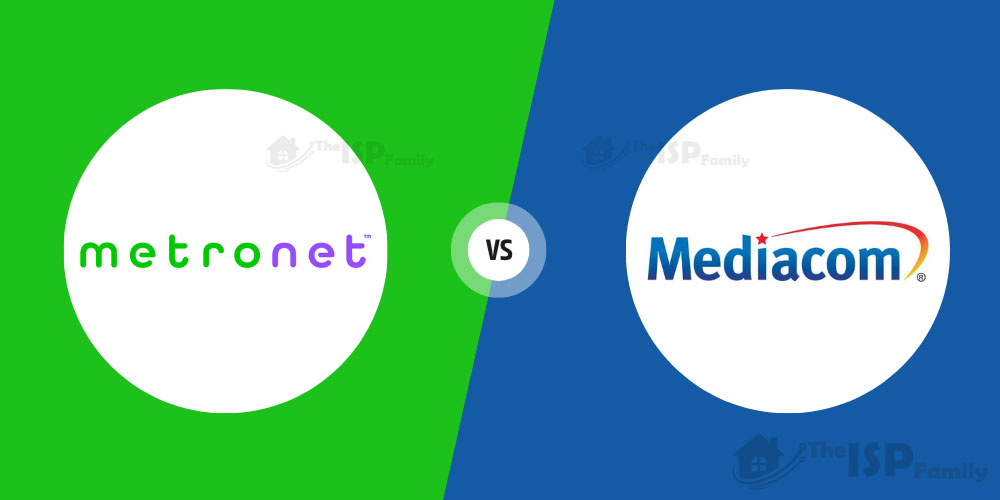 Metronet Vs Mediacom: What do you need to know?
About Metronet Internet:

Metronet is one of the most outstanding internet service providers in the US, with a rapidly growing footprint serving two hundred-plus communities over sixteen states. It offers 100% fiber optic internet service that is highly reliable and has high-speed internet. Metronet provides a variety of speeds and plans to fulfill the demands of both residential and business consumers.
The internet packages of Metronet have an unlimited data allowance which means you will get the fastest internet with Metronet. It will offer Wi-Fi hotspots that are available around the country, and it is perfect for people who are travelers.
Metronet also has an available contract buyout feature from which you can easily switch your current internet service to Metronet.
About Mediacom Internet:

Mediacom is a widespread internet service provider in the US that provides coaxial fiber and cable internet in twenty-two states with over seven million people.
It offers various plans for residential and business customers, ranging from 100 Mbps to 1 Gigabit. You will get premier internet with Mediacom's Xtream, which provides reliable high-speed in their locations.
Mediacom has a variety of packages with download speeds up to 200 Mbps, unlimited data, and no hidden fees or contracts that you can choose as compatible with your demands.
It provides a large bundle with a discount on phone service and TV. Mediacom has many features and tools like safe Wi-Fi, home network management, and parental controls.
Jump To: Overall comparison | Connection Type | Area Coverage | Plans and Pricing | Internet Speed | Available Bundles | Pros and Cons
Metronet Vs Mediacom: Overall comparison of internet service
| Internet Service | Metronet | Mediacom |
| --- | --- | --- |
| Type of Connection |  Fiber-optic Network | Hybrid Fiber-Coaxial |
| Network Area Coverage | Sixteen states | Twenty-Two states |
| Internet Plans | Three | Four |
| Speed Range | 100 Mbps – 2 Gbps | 100 Mbps – 1 Gbps |
| Data Allowance | Unlimited | 300 GB – 6000 GB |
| TV Channel | 290 | 170 |
| Data Caps | No | Yes |
| Annual Contract | None | None |
| Price Range | $49.99 – $89.99/month | $30 – $90/month |
As Metronet and Mediacom both have extensive features & services, they try their utmost to fulfill the demands of their consumers. But, you will find some stark differences between them and have some robust security options.
Here I will provide an in-depth comparison of Metronet Vs. Mediacom's internet features and services can assist you in finding the better choice.
Read also: MetroNet vs Comcast: Which Internet Provider is Better?
Metronet Vs. Mediacom: Type of Connection
The most vital aspect is the type of internet connection when we go through the comparing issue of Metronet Vs. Mediacom. You will get only fiber internet with Metronet internet, while Mediacom offers both fiber & cable internet.
From Metronet fiber internet, you will get the fastest internet connection which download speeds up to 1000 Mbps. The households who depend on streaming, games, or other high-speed internet, fiber is a friendly & great option for them. It is also more reliable than cable connections.
Heavy rain or rough weather may affect the cable connections, but fiber connection has no effects with such factors. It ensures the fastest internet in all situations, even in peak times.
Moreover, you don't need a technician visit if you want to upgrade your service with fiber internet. You will call customer support to help you boost your plan in a few minutes.
Metronet Vs Mediacom: Area Coverage
Comparing the service availability of Metronet vs. Mediacom, we find both have large service coverage areas throughout the country. Comparatively, Mediacom's availability is typically larger than Metronet's.
Metronet provides services to 5.1 million subscribers within Indiana, Iowa, Kentucky, and adjacent states. To ascertain whether Metronet offers services in your location, please input your ZIP code into the search bar at the top of this page for immediate results.
Mediacom provides internet services to more than 1.4 million people in 22 states & 2,000 communities, while Metronet offers internet services in 16 states with more than 250 communities.
Metronet Vs. Mediacom: Internet Plans and Pricing
Metronet Internet Plans and Pricing:
Metronet internet plans provide symmetrical upload and download speeds, a crucial benefit of fiber internet over cable internet. Metronet plans have no data caps or contracts, which means you have no overage fees & any early termination fees. Therefore, it is a worthy choice for all. There are three Metronet internet plans below with a chart.
Metronet Unlimited Fiber Internet Packages:
| Internet Plans | Download Speed | Upload Speed | Price |
| --- | --- | --- | --- |
| Standard Internet | 100 Mbps | 100 Mbps | $39.99/month |
| Premium Internet | 500 Mbps | 500 Mbps | $59.99/month |
| Ultimate Internet | 1000 Mbps | 1000 Mbps | $69.99/month |
You will get around 100 Mbps upload & download speed with the Metronet Standard Internet plan, which is $39.99 monthly and perfect for two or three devices. Metronet Premium Internet plan offers 500 Mbps download and upload speed at $59.99 monthly and is suitable for five devices simultaneously. And with Ultimate Internet, you will get 1000 Mbps download & upload speed, which is $69.99 per month and is standard for 4k video streaming and games.
Mediacom Internet Plans and Pricing:
Mediacom fiber-backed cable internet connection does not offer symmetrical speeds where the upload speed is slower than the download speed. The price is comparatively lower than the fiber internet with a generous monthly data allowance.
Mediacom internet plans have tied monthly data caps that can lead to overage fees and may be challenging for you to tend to consume more data. However, Mediacom fiber internet plans are below with a chart that can clear everything for you.
Mediacom Fiber Internet Packages:
| Internet Plans | Download Speed | Upload Speed | Price | Data Cap |
| --- | --- | --- | --- | --- |
| Internet 100 | 100 Mbps | 10 Mbps | $29.99/mo. | 200 GB |
| Internet 200 | 200 Mbps | 20 Mbps | $39.99/mo. | 1000 GB |
| Internet 400 | 400 Mbps | 30 Mbps | $49.99/mo. | 2000 GB |
| Internet 1 Gig | 1000 Mbps | 50 Mbps | $59.99/mo. | 6000 GB |
With Mediacom internet plans, the starting price is $29.99/month for plan 100, whose download speed is 100 Mbps and upload speed is 10 Mbps, with a 200 GB data cap.
The highest plan price is $59.99/month with 1000 Mbps download speed & 50 Mbps upload speed with a 6000 GB data cap.
Read also: Blue Stream Vs Comcast: Who Has Better Internet Service?
Metronet Vs Mediacom: Internet Speed
Metronet offers three stages of speed that permit you to choose the best option for your demands. The network is FTTH1 which provides download & upload speeds with symmetrical megabits-per-second overall plans.  
Metronet offers unlimited data for their plan and has no long-term contracts or commitments. The speed of their plan starts at 100 Mbps and goes up to 1000 Mbps. Metronet plans Prices may be slightly considered if you sign up for paperless billing.
With Mediacom Internet, you can choose from various plans with speeds as high as 1000 Mbps download. But, it provides slower upload speeds than the fiber network; even Mediacom's highest plan offers only 50 Mbps upload speed.
The plan range of Mediacom is from 100 Mbps download with 10 Mbps upload to 1 Gbps download with 50 Mbps upload.
Metronet Vs Mediacom: Bundle Options
Metronet Internet offers great bundle deals where you will get a $50 and $200 gift card with sign up for the 500 Mbps and 1 Gig or 2 Gig plan. Metronet ensures the best deals of six months to two years with price guarantees on all internet plans. 
On the other hand, Mediacom has no mass bundle offer, but you can get decent packages with TV and internet. You can sum up three kinds of cable TV lineups with Mediacom's internet plans Local TV, Essential TV, and Variety TV.
You will get 50 plus local TV channels with Local TV options, Essential TV provides 125 plus channels, and Variety TV offers 170 plus channels with Mediacom internet.
Metronet Vs Mediacom: Pros and Cons
If you want to choose the best one from Metronet Vs Mediacom, you need to consider the pros & cons between them, which can assist you in making the right decision for your needs. Let's know what the advantages & disadvantages of the Metronet and Mediacom internet service providers are.
Metronet Pros and Cons:
PROS
Fiber-optic Network
Symmetrical download & upload speed
Unlimited data
Fast & reliable speed
Variety of plans and reasonable prices
No equipment fee, data caps & contract
Widely available throughout the United States
Functional and pleasing customer support
CONS
Lack of availability in rural locations
Speed range depends on your location
Mediacom Pros and Cons:
PROS
Fast download speed
Offers reliable speed with good customer service
Availability
Various bundle options
CONS
Limited availability in specific areas
Slower upload speed
Data caps or additional cost
Read also: T-Mobile Home Internet vs Spectrum: Which is best for you?
Is Metronet Good for Gaming?
There is no doubt that Metronet & Mediacom both ensure reliable speed for online gaming. But, with Metronet internet, you won't have any tension & restrictions on your usage. On the other hand, Mediacom has a data cap, which can be restrictive and may create a barrier to your play. Therefore, the Metronet internet is good for online gaming.
Can I use my own router with Metronet?
Yes, Metronet permits their customers to use their router, which is hopeful news for them. Metronet does not charge any fee on routers only. It has a $9.95/month technology fee, including router, service calls, or other equipment fees. Therefore, you can easily use your router with Metronet.
Is Metronet internet better than Mediacom's?
Though Metronet and Mediacom are both popular internet service providers, comparatively, Metronet is the fastest & better choice. Metronet ensures reliability with its 100% fiber-optic network and provides unlimited data with a symmetrical speed; that is the unique reason for a worthy choice. It offers the best fiber plans and has no data caps, contracts, equipment fees, or additional costs.
On the other hand, Mediacom Xtream offers a relatively lower price but much slower upload speeds. It has no reliability, fastest speed & customer support like Metronet. Mediacom also has limited data and has data caps, high equipment & installation fees, or other hidden fees. That's why Metronet is definitely a better option than Mediacom.
Final Say
Metronet Vs Mediacom, which provider is right for you depends on your expected demands. But, comparatively, Metronet's internet is better than Mediacom's because it offers symmetrical speed with reliability. With Metronet internet, you won't worry about the additional cost that can save your wallet money.
On the contrary, Mediacom offers affordable prices but has much lower upload speeds. And it provides less competitive plans than Metronet & has a high additional cost or hidden fees that are a bad report for Mediacom internet.
In a word, from Metronet Vs Mediacom internet, Metronet is a winner!
Read also: Fidium VS Spectrum: Which is Best Internet Service Provider?
https://www.techtarget.com/searchnetworking/definition/fiber-to-the-home ↩︎
Was this article helpful?