Optimum Vs Frontier: Comparing Internet Providers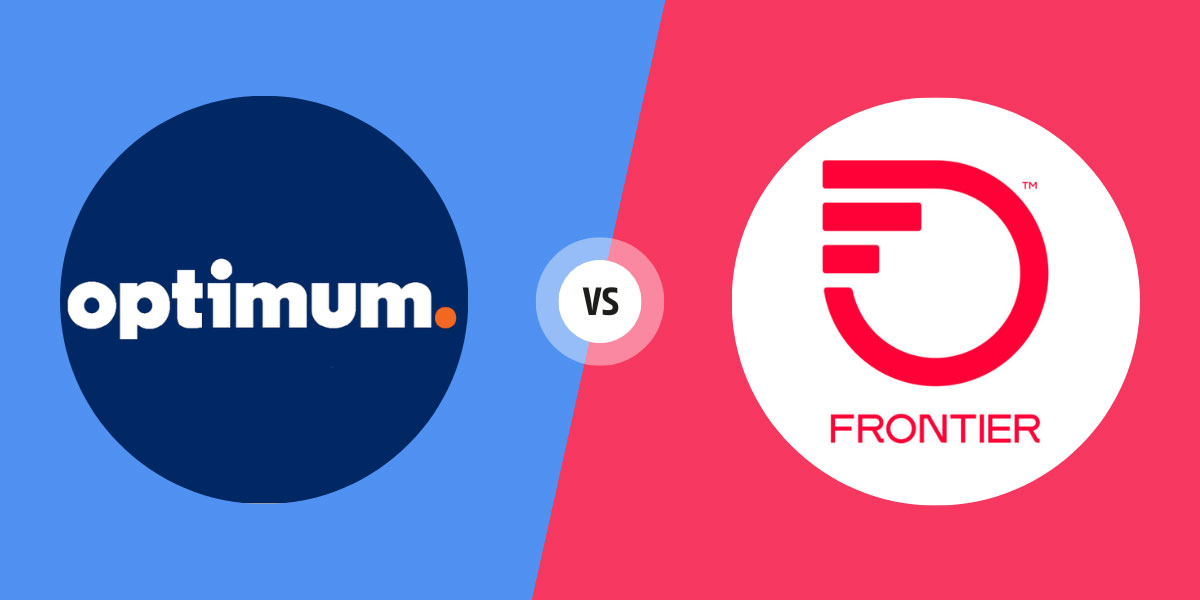 Optimum and Frontier are identical in several ways. They offer high-speed internet with no data limits and free installation. Both have recently launched 5Gig. So, how to decide which of the Optimum Vs Frontier suits your household needs?
No matter how many similarities two ISPs have, there must be some differences. Frontier and Optimum are no exception. For instance, Optimum has more average speeds than Frontier.
What's more? The price of both sets them apart from each other. While Optimum has low introductory prices, Frontier is somewhat pricier. But when it comes to entry-level packages, Frontier wins over Optimum.
Frontier's entry-level package starts at $37.99/month. Conversely, Optimum's entry package begins at $49.99/month. There are many things to consider before deciding on one for your household.
Optimum Internet: A Brief Introduction
Optimum, listed as Fortune 500 company, is the 4th largest cable provider in the U.S. The Altice USA company owns and operates Optimum Internet. Based in Long Island, New York, Optimum covers around 21 states across the U.S.
Around 11.9 million people in New Jersey, Connecticut, New York, and Pennsylvania use Optimum cable service. Optimum fiber internet is powered by an advanced Fiber network. Their fiber network is available to around 1.6 million people.
Read also: GoNetspeed Vs Comcast: Which Provider is Best For You?
What is Optimum Internet Good for?
Any Drawbacks?
Frontier Internet: A Brief Introduction
Frontier Internet is the broadband internet service provided by Frontier Communications Corporation. It is a Fortune 500 Company founded in 1935. Frontier operates in 25 states across the U.S.
Frontier has been one of the most successful DSL internet providers. However, they entered the fiber internet market by acquiring the Verizon Fios fiber network. Much of its growth occurred in 2016 through this acquisition.
Their fiber service is available in a shorter list of 15 states. Fiber service is primarily available in the southeastern United States, the Great Lakes region, Texas, and California.
Besides home internet service, residential and business customers can use home phone service, digital T.V., and computer technical support. Frontier currently has more than 3 million broadband internet service subscribers.
Read also: T-Mobile Home Internet Vs Verizon Home Internet: Which is Best?
What is Frontier Internet Good for?
Any Drawbacks?
Optimum Vs Frontier: Comparing Alongside
Choosing a home ISP can feel overwhelming, especially when choosing between Frontier Internet vs Optimum. Both are Fortune 500 companies. We have thoroughly reviewed the speed, plans, prices, coverage, etc., to determine the best.
Frontier Vs Optimum: Internet Speeds and Performance
When it comes to internet speeds, Frontier has it all, from really slow to very fast. Frontier DSL service basically offers pretty slow download and upload speeds of up to 20Mbps. This speed may be enough for day-to-day activities.
However, Frontier fiber's service is on another level. It is predictably excellent, with speeds starting from 500Mbps up to 5000Mbps. For the fiber plans, the speeds are symmetrical. This is handy when you need to share multiple large files.
A study by the FCC states that the service has the fastest ping of any provider. There is no comparison to Frontier, whose super-fast fiber network is available. They deliver at least 90% of their advertised speed, even during off-peak hours.
Optimum, on the other hand, has better DSL service than Frontier. The DSL download speed ranges from 300Mbps to 940Mbps. This speed is good enough for small families with two people working from home and kids playing games.
Moreover, Optimum fiber service has symmetrical upload and download speeds. The Optimum fiber speeds range from 300Mbps up to 5000Mbps. Their speeds may vary by location. Also, they are claimed not to offer speeds as advertised.
Our Feedback
Both Optimum and Frontier offer better speeds with gig internet service. But Frontier claims to provide the speed they advertised, which Optimum often doesn't. However, Optimum's average speeds are somewhat higher than Frontier's.
In general, Optimum speeds are faster than Frontier but not reliable as Frontier.
Optimum Vs Frontier Internet: Internet Plans and Pricing
Optimum offers competitive rates, often lower than its competitors. It even has a lower starting price for both its cable and fiber service. What else? Frontier doesn't require any contracts.
You have to pay less if you use AutoPay and paperless billing. Moreover, Optimum has several bundles to help you choose according to your needs and save money.
From low-rate options to high-rate ones with more speeds, Optimum has something for you. On the other hand, Frontier also has several plans available. It comes with only one DSL plan that costs around $49.99/month.
Frontier fiber internet plans range from $49.99 to $154.99. Frontier DSL plan is slightly higher than the Optimum DSL starting plan price. Frontier fiber internet gig service costs much less than Optimum.
For example, Frontier 1 G.B.'s internet price is around $60/month, while Optimum 1gig is $80/month. However, Optimum appears to be cheaper than Frontier in the first year. After one year, most Optimum plans increase by about $70 per month.
Conversely, Frontier plans rarely increase after one year and most after three years. Besides, most Optimum gigabit plans don't include the monthly equipment rental fee. With the equipment rental fee, the price becomes higher.
Read also: HughesNet Vs Frontier: Is HughesNet Better than Frontier?
Our Feedback
Regarding Frontier Fiber vs Optimum, Frontier Fiber is a better option. But in comparison between Frontier DSL and Optimum, Optimum edges out Frontier. It costs $5 less than the Frontier DSL plan.
Overall, Frontier Fiber and Optimum cable internet plans are the best.
Frontier Vs Optimum: Network Coverage
Optimum Internet offers cable and fiber internet service to over 20.6 million people. It is one of the leading internet service providers in Connecticut, New Jersey, New York, and Pennsylvania. It provides cable internet service to a wide range of areas.
Optimum's fiber internet service is mainly available in the New York tri-state area, such as Bronx, Brooklyn, and Newark. Moreover, Arizona, California, Missouri, Louisiana, New Mexico, North Carolina, Oklahoma, Texas, and West Virginia have limited fiber coverage.
Frontier is available in approximately 25 states in the United States, including the Southeast, Midwest, Northeast, and West Coast. However, the middle of the country and the Northwest don't have Frontier coverage.
Frontier FiberOptic Internet offers fiber service to 15 states, including Arizona, California, Indiana, Texas, Connecticut, New York, Ohio, etc. It appears that both Frontier and Optimum have coverage in Connecticut.
In the Frontier Vs Optimum Connecticut comparison, Frontier fiber edges out Optimum fiber. Frontier has 62% coverage in Connecticut. But, Optimum cable internet performs six times better than Frontier DSL internet.
Our Feedback
In general, Frontier has better coverage than Optimum.
Frontier Internet Vs Optimum Internet: Installation and Equipment Fees
Unfortunately, both Optimum and Frontier charge a tidy sum as installation and processing fees. Frontier is pretty expensive when it comes to installation and equipment fees. They charge an $85 internet activation fee and a $10 processing fee.
After the activation and setup, they charge $75 as an installation fee. If you don't have your own router, you need to pay $10/per month for the WiFi router service fee. Then, they charge $6 /month for WiFi extenders, or you can purchase them at $65.
Optimum, on the other hand, mostly charge $99, or for premium installation, $149. Sometimes, Optimum offers free installation to new customers. They charge $10/month if you lease a modem from Optimum.
A free smart router comes along with the modem you lease from Optimum. In fact, the Optimum premium 1Gig package comes with a free WiFi extender as well. So, you only need to pay the installation and modem lease fee for Optimum.
Our Feedback
Optimum charges far less than Frontier for the installation and equipment. Evidently, Optimum has a leg up on Frontier when signing for the first time.
Read also: Fidium Fiber Vs Comcast: Which Provider Best For You?
Optimum Internet Vs Frontier: Data Caps, Contacts, and Others
Some ISPs have data caps, though Frontier and Optimum have no. So, you get unlimited wireless internet for working, streaming, and gaming. Moreover, Frontier and Optimum plans don't have annual commitment requirements.
Optimum has no termination fees; even Frontier doesn't. But Frontier charges a standard $9.99 disconnect fee. Call their customer service to cancel your connection if you want to switch to a new ISP.
Final Thoughts
When we compare Optimum Vs Frontier in general, Optimum is faster and more affordable. In areas where both Frontier and Optimum are available, it is wise to choose Optimum. It is much faster, has plenty of plans, and is quite affordable compared to Frontier.
But if you live in Texas, California, or Florida, Frontier would be the best. Frontier offers the best plans in these areas. In other areas, Frontier's performance may vary from time to time.
Was this article helpful?