The 15 Best Portable Cell Phone Signal Booster for Hiking & Backpacking
Suppose you are hiking, and after some time your phone says connection error. Especially in areas with a lot of hills, cell phone signals aren't always very strong. People who go hiking or visit places like this have a hard time communicating because there isn't a lot of cell service. Now, what should you do?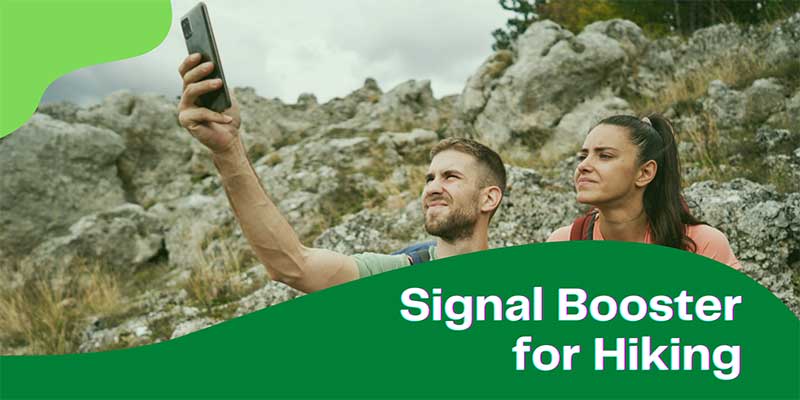 Having a portable cell phone signal booster might save the day. If you don't have enough signal on your cell phone, you could buy a cell phone signal booster. These boosters are small and can work with almost all of the major service providers in the US.
Our goal is to give you the information you need to make an intelligent decision about which Portable Cell Phone Signal Booster you should buy for your next hiking trip.
Do You Need a Portable Cell Phone Signal Booster?
Cell phone signal boosters have been designed to boost the signal for 3G as well as 4G in areas that don't have a lot of signals, like in the city. If there is no signal at all, the booster won't make it happen. In a low signal area, the booster could indeed make all the difference between being able to make a call and not being able to. It will also make LTE speeds faster in better situations.
It is best to use boosters when you have weak, but not completely lost cell phone service. Here, signal strength is measured in -dBm, which is the same as your phone's bars. There is a strong signal if the number is more than about -90dBm (like 80 or 70). Below -110dBm, the signal is weak; below -120dBm, you'll have a hard time getting any signal at all. If you have an app like CellMapper, it can show you how strong the signal is on your phone.
Before you buy a Portable Cell Phone Signal Booster for Hiking or backpacking, there is one thing you can do to see if it will help your phone work. Most wireless carriers now have Wi-Fi calling, so you can connect your phone to the Wi-Fi at home to make phone calls.
How Do Cell Phone Signal Boosters Work?
Every portable cell booster works the same way: The signals coming from your nearest cell tower are boosted by a booster, making them clearer.
Two of the most important components of any mobile phone signal booster are:
An antenna that connects to the tower outside.
"Bi-directional" amplifiers increase the signal on both the "uplink" and "downlink" routes, which is why they're called that.
An inside antenna that connects to the tower for communication.
Mobile repeaters, amplifiers, and network extenders are all terms used to describe the same thing: mobile phone signal boosters.
There are some portable cell phone signal boosters that only work with one carrier at a time. Other "broadband" boosters, on the other hand, are capable of working with all of the major providers simultaneously.
Read Also: Fix Spectrum Internet Outage or Down in your Area
How I Choose The Best Cell Phone Signal Booster for Hiking?
A portable cell phone signal booster comes with a lot of things to think about, such as the following:
Coverage area
You might want to get a cell phone signal booster that covers a lot of ground. If you're hiking with a large group and need to distribute the signal, this is an excellent alternative. Moreover, to ensure network stability, the hiking cell phone signal booster should also provide a wide coverage area.
Compatibility of the network
You could be using many networks at the same time, or you may shift between them. This means that it is better to get the booster that works with almost every network available so that you don't have to change it every time your phone is changed.
The boosters I talked about in this article work with all the major service providers, like T-Mobile, Verizon Wireless, and AT&T. As a bonus, it works with a lot of different Mobile Virtual Network Operators, like Boost Mobile and Cricket Wireless.
Design
The Portable backpacking cell phone signal booster ought to be able to match your requirements in terms of its design and functionality. A portable cell signal booster can also be installed in automobiles to improve cell phone reception. If you want to make your usability easier, you need to know what kind of design you're searching for.
Additional tools
The portable booster's set-up requires a variety of cables, connections, and other instruments. All of the boosters I looked at came with the tools you'll need to get the gadget up and running. You'll also receive an instruction book to guide you through setting up the gadget.
Price
You should be able to afford a signal booster for your cell phone. Luckily, the boosters mentioned in this post are cheap. You can't acquire a mobile phone signal booster on a credit card.
I suggest you save up some money and purchase a booster that works for you if you don't have enough money for a portable mobile phone signal increase for hiking & backpacking. We've compiled a list of several mobile phone signal boosters based on their price ranges.
The 15 best Portable cell phone signal Booster for Hiking
1) WeBoost Drive X RV Portable Cell Signal Booster
New to Wilson Electronics is the WeBoost Drive X RV Cell Booster, which is better than the 4G-X-RV cell booster. Whether you're parked at a campground or riding down the highway, the system can accommodate many users at once and amplify 3G and 4G LTE cellular signals up to 50 dBm.
There are many things that this cell phone signal booster can do. Up to 33% of the time, it can get to cell towers. This makes it so much better than many of the standard boosters on the market, which is why you should buy this one
Yes, I think it's worth it, but I think it costs too much. The booster only works in places where you already have "good" coverage, which disappointed me since I had great hopes that it would work in unexpected places.
In general, this is a good thing to buy for someone who likes to hike near cities and towns. If you only go off the grid in very remote places, though, this device isn't likely to work well for you. Furthermore, this cell booster already has enough parts to put in and doesn't have a way to automatically change its gain.
PROS
Saves a cell phone battery.
Compatible with all of the carriers
DIY-installation
A guarantee of 2 years
2) HiBoost RV Cell Phone Signal Booster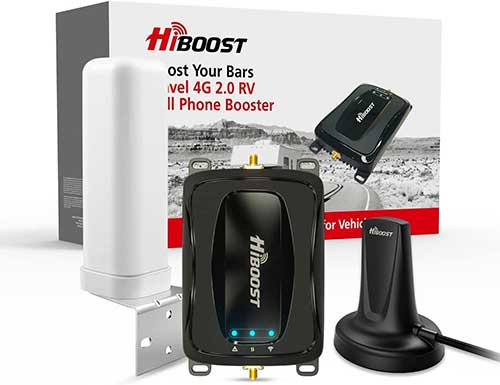 HiBoost is the second item on our list. It is a cell phone signal booster that works well with SUVs, trucks, camping areas, and other things. You can connect to 2G, 3G, and 5G networks. It can work well enough in rural changes to make the internet and mobile messaging and calling.
In the US, the booster seems to be compatible with all of the major carriers and can work with a wide range of network bands. Then, the HiBoost App helps you set up the booster by adjusting the Max gain on your phone. This helps the user to get the right signals to your cell phones in rural areas.
The antenna placement can take a while, but after everything is set up and running, the device works great. My favorite thing about the LCD display was how it helped me keep track of my status and how well it worked in general.
There could be more from the Companion app and it could be better. Also sometimes it's hard to find the right position for an antenna. Also, the price seems to be high.
PROS
Can be used for up to 24 hours
A battery capacity of 20,000 mAh
Rapidly enhancing activity
Coverage of a wide area
CONS
Not the best way to set up
3) WeBoost Home Studio Omni Portable Cell Booster
Compared to the higher-priced WeBoost Home Studio models, the Omni ($349.99) has a more straightforward setup and smaller interior gear than the other Wilson WeBoost products.
There's a 60dB booster for bands 2/4/5/12/13/17/25, according to the manufacturer. The booster is easy to install and may be installed in various locations around your home. To get the booster, there are no fees to set it up or sign up for.
This comes with a quick signal boost for all of your devices, so you'll get better service quickly. It's also compatible with most cell phones. I like this two-piece WeBoost Home Studio because it's easy to move around and does what it says. It improves cell phone reception in one room. It only works with a few networks and isn't as strong as most Cell boosters.
PROS
Signals improve right away
An easy way to set up your cell phone booster
Compatible with all of the carriers
It's not heavy at all
CONS
Unreliable in most places
4) SuperBars Cell Phone Signal Booster
A cell phone signal booster called SuperBars is good for trucks, and it works well with other types of cell phone signal boosters. The booster can easily make the signal go from 2G to 5G. It works with Verizon, AT&T, Sprint, T-Mobile, Straight Talk, as well as U.S. Cellular. It improves all bands from 700-750 MHz to 1700-2100 MHz, and it works with all of them.
Using the Fine Tune Max gain feature, users may fine-tune the signal strength to operate best in locations where cell service is poor. It comes with everything you need to install it, and the gain can be changed.
However, it can only be used to its fullest potential in trucks. People who go hiking don't like this because it's not very powerful and it doesn't work well at home or at work. Getting things set up is also a lot of work.
PROS
2000 mAh Battery
3,000-6,000 sq. ft. coverage, or 3 to 6 rooms
Easy DIY setup
Compact size
CONS
Not for hiking especially
5) 5 Band Cell Phone Signal Booster
If you're looking for cell phone boosters as well as the things that go with them, this is the best. This booster can be great for your home office and sometimes even hiking. It also works with Verizon, AT&T, T-Mobile, Sprint, Cricket Wireless, and US Cellular, as well as many other US carriers.
To make sure you get a safe and energy-efficient product, the booster knows about using its "Inactive Mode." When there aren't any users, the booster goes to sleep to save power and keep the temperature down.
The best thing about the booster is that it can sense and change the strength of the cell signal so that it spreads a signal that is good enough for you to use. This is just like the perfect secretary: You don't have to do it on your own at all.
Sometimes, when the outdoor signal is too powerful, or the antennas aren't far enough away, self-oscillation will happen. But, if the booster notices that there are no calls or data even though you have full bars, it will cut back on its gain or close down itself. However, it doesn't have a mobile app, which can be frustrating for the younger generation.
PROS
2 hours of additional talk time
5-year manufacturer warranty
Auto Gain Control
6) SureCall Fusion2Go 3.0 RV Cell Phone Signal Booster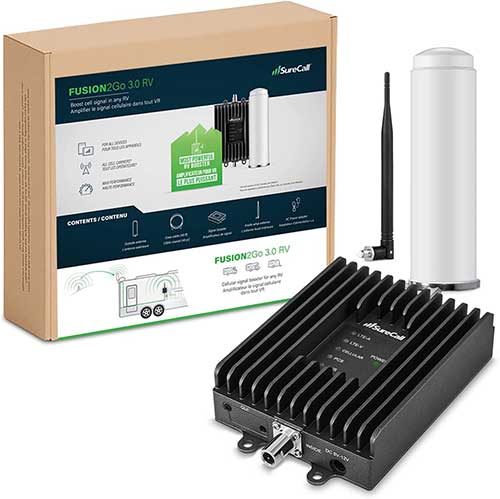 SureCall's Fusion2Go 3.0 is a great signal amplifier that could be completely installed throughout your vehicle as well as the camper van. It can help you get better reception and It has a magnetic roof antenna, a signal amplifier, also a 9-volt power adapter. It also has an optional adhesive for the roof antenna.
AntennaAntenna is a magnetic antenna that can be attached to the outside of the booster and used to make a DIY installation. This booster is simple to set up and can be used outside.
The SureCall booster I'm talking about is one of the most powerful SureCall has to offer. It provides the maximum amount of gain or power possible for an in-vehicle cell phone signal booster, making sure that you can stay connected even in the most remote areas. However, some people find the price too high.
A new product called the Fusion2Go Max has just been released by SureCall. This is the Fusion2Go Max. It is the first and only vehicle booster in the market to use the company's recently patent-protected Extended Range Technology (ERT), which also improves data speeds and increases the range among vehicles and cellular towers over other boosters.
PROS
Great for RVs and campers
Omni-directional external antenna and a whip-style indoor antenna
Easy to configure AntennaAntenna
Supports 4G connectivity
7) Hiboost Cell Phone Signal Booster
If you want to improve the signal on your cell phone, you can use the HiBoost Cell Phone Signal Booster wirelessly. If there is no signal outside, the booster won't work. Make sure you can get at least 1 bar of signal from outside before you buy the booster so that it will work.
The DOT is classy and slim, and it fits right in with your homes and workplaces. Using this app, you can adjust how much power your phone can use and how strong the tower source edition is. It works with all 2G, 3G, and 4G phones. You can use this phone on all US and Canadian carriers, like AT&T and T-Mobile. Sprint and Straight Talk are also good options.
Coverage can go up to 500 to 1,000 square feet with this powerful tool. There is no need for a booster to make a signal. When there's no outside signal, the booster won't work. An inside antenna sends the boosted signal to all the cell phones and other devices in the house or office.
PROS
5G technology within the FCC regulation
Boosts weak signal up to 10,000 sq. ft.
3 years warranty
Fast boosting activity
8) WeBoost Drive X Signal Booster for Camping
There are many people who think WeBoost drive X is the best signal booster for a car. It also has a good rating when it comes to hiking, too. Simple to set up, the booster does have a modern look and is very easy to set up. It can make the gift more effective if you hike in the mountains.
The installation procedure is complete on your own, but if you have any problems, they can help you. You can use WeBoost Drive X with all of the US cell phone providers. This means the booster will work based on which networks you use. If you use Verizon, Sprint, T-Mobile and their MVNOs, the booster will work as it should. The model comes with a battery that can last for a long time, which makes it good for long trips.
If your phone can connect to 5G, then the Booster could indeed send 5G signals right to your phone through the Booster. The packaging is very impressive and it is quite light, so it is easy to carry around.
PROS
2 hours of additional talk time
2 years warranty
Automatic gain adjustment
DIY Installation available
9) Cel-Fi GO X | 100 dB 4G/5G Cell Phone Signal Booster
People who make cell phone boosters as well as their accessories, like Cel-Fi, are very good at what they do. This booster can be great for your home office or even hiking. When you buy the package, you get one indoor antenna that is either on the wall or in a dome.
This means that the booster could also work with all operators in the United States because they all use the GSM network. One thing that makes this one the best is that it has a 100dB single-carrier advantage. This means it can boost 40dB more than every other booster. The booster gives you fast data speeds, so your browsing experience will be great.
This also comes with everything you need to install it, including an antenna mount and a surge protector for your lights. But the installation process takes a long time, so don't expect this to work well in an hour.
PROS
FCC verified
Comes with all installation products
Works with major carriers
Boosts signals at a fast speed
CONS
Can't work with all MVNOs
10) Amazboost Indoor A2 Cell Phone Signal Booster
When it comes to offering boosters, AmazBoost is among the most popular service providers on the market today. This booster has a 4-star rating on Amazon and is regarded as the best cell phone signal booster for home. The booster can work with 12, 13, 4, 2, 5 network bands and supports 2/3/4G signals.
It also works with all the carriers in the US regardless of CDMA or GSM network technology. The booster offers 65 dB gains and enhances the signals up to 300x, overall. It boosts voice and data signal, improves your data speeds, and stops dropped calls.
The ouster also automatically adjusts the system gain and power level for optimum results. It is already FCC approved and all you need to do is register with your service provider.
On the other hand, it might be missing the mounting pole and bracket. The description says it is 5G capable, however, the device and documentation say it is not. Also, the description shows 2500 sq ft coverage, however, the product indicates this is dependent on the outside source, which could be as little as 700 sq ft if you have little signal at the donor antenna.
PROS
FCC approved
Supports automatic gain
Extends cellular battery life
11) SureCall FlareDB+ Cell Signal Booster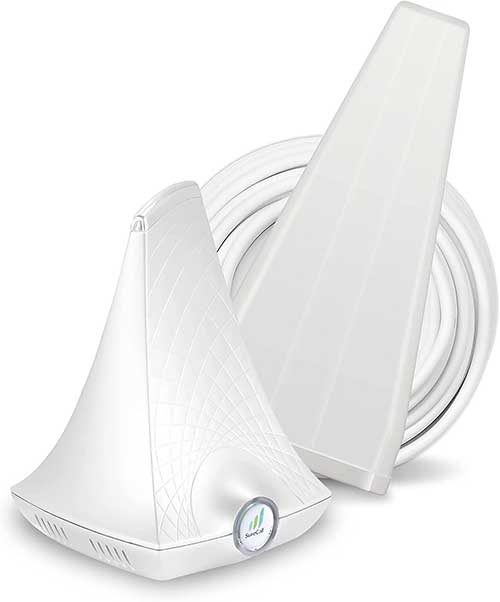 FlareDB+ is that type of Cell Signal Booster that can cover a lot of space for people who don't want to spend a lot of time installing it. The device is very well-made and is made in the United States, which is where it was made. There's also some work for you to do since the device comes in at least three parts. To use this router, you need a base unit that looks like modern art and 50 feet of coax cable, like what you'd use to connect your TV to your TV. You also have a Yagi directional antenna which must be positioned outside the house.
And because the antenna is meant to be outside, you may need to drill to put it in. Fortunately, the kit comes with a lot of different ways to attach the antenna to different surfaces or poles. if the FlareDB+ is properly installed and set up, it does indeed improve both voices as well as 4G LTE data coverage in the area. It works with most cell phone providers, like Verizon, T-Mobile, and AT&T. Even if you have a lot of space in your home, the FlareDB+ should be able to cover up to 3,500 square feet with multiple users at the same time.
Even so, you might need to check with your service provider to see if signal boosters are OK.
PROS
5G phone compatible
Yagi directional antenna
Powerful outdoor signal strength up to 1000-2000 sq. ft.
All the tools available
CONS
Overpriced
Not so durable
12) ANYCALL Cell Phone Signal Booster for Backpacking
There is no risk of going off the range with this signal booster throughout your vehicle. You can just go to the farthest parts of the country without having to worry about going off the range.
The Anycall booster will allow AT & T, US Cellular, Verizon, Cricket Wireless, and Straight Talk to work when you use it.
This booster can work with five common bands that cover frequencies from 700 MHz to 1900 MHz, so it's good for a lot of people. The 8dB internal antenna could even actually improve your phone calls, and it can also work with 4G LTE data speeds, so you can get faster data. There are five LED lights that show you how well the antenna is working.
It can run at high speeds on a lot of different things at the same time. This is great for big families or people who are using their RV as a vacation or mobile home. For the price of this unit, users get features and qualities that are in line with much more expensive units that cost a lot more. There are so many good options right now, so that's one of the best, right now.
However, Sprint doesn't work with it. Moreover, there is a lot of inconsistency in how the signals are boosted, and people don't think the user manual is very good.
PROS
Gives a boost of 45dB
Features an LED indicator as well
Requires a current supply of 5V and 2A
Has lightweight and portable antennas
13) Phonetone Cell Phone Signal Booster for Hiking
Compared to the mobile phone booster I recently reviewed, this one from Phonetone will offer you a far better signal increase.
When you go to remote places with your RV or SUV, you often go off the range, which means you can't take calls. This device, on the other hand, will detect any incoming signals and enhance them so that you can hear and send messages clearly. You can't use this to pull a signal out of thin air, but if you get a good signal outside, it will carry that signal inside. The installation process is also very easy.
Some of the information on how to find a good output could be better. Also, it would be nice if the cables could be cut off so that if you drill a hole, you might feed the tiny cable through the hole and attach it to the antenna.
PROS
FCC Certified
30-day money-back guarantee, 3-month free replacement, 5-year manufacturer warranty.
DIY Installation
Automatic Gain Control
CONS
Doesn't always perform the same way.
14) WeBoost Drive Sleek Cell Phone Signal Booster
The Drive Sleek by WeBoost (a Wilson Electronics brand) is the most affordable high-quality signal booster available to buy for $199.99. Stretching the range of something like a cell tower can give you that little extra push to continue pushing while on a hike. It usually has better signal boosts at camping sites.
These single-device car boosters don't send out any signals. If you're in the back seat, you won't be able to use your phone. As long as you have a 5G-compatible phone or another device, this booster will work well to boost the signal of your phone or another 5G-compatible device. This means that the WeBoost Drive sleek could also charge phones while you're on the go with the help of a USB cable.
When I held my phone in its cradle, I found it to become safer and less likely to fall out, which made it easier to hold. These home boosters, on the other hand, aren't as powerful as the more expensive ones. They just boost the phone that was in the cradle at the time. Plug and play signal boosters, on the other hand, can only improve the reception of one item at a time, which is a big flaw.
PROS
Features a mobile App
Simple DIY installation
FCC approved
CONS
Cradles aren't really reliable for one person to use
15) WeBoost Drive Reach Signal Booster
If you care a lot about how you look on the road, the Drive Reach is a logical choice. Wilson Electronics has done a great job with this booster. It has a sleek, metal exterior that is meant to move heat away from the body so that it can work at its best.
The Magnetic roof antenna is one of the things you can consider from this booster. Try WeBoost Drive reach if you've tried to boost a cell phone signal at home anymore and it didn't work. It can add up to 74% more network coverage than other WeBoost devices. The booster works with all of the US's cell phone providers.
When you buy it, it comes with long battery life. Your phone's battery life has been extended by two hours. The installation doesn't involve any tools, so it comes with such a simple-to-follow guide. These products will make it easier to talk, text, and send and receive data. However, it might not be enough with its magnetic roof antenna. It also features a disappointing battery life.
PROS
Up to +50 dB of gain
Works for all phones and all carriers
Easy to use SMB connectors
90 Day money-back guarantee
CONS
Not sufficient antenna
Disappointing battery life
Bottom line
At this point, you have all the information you need to get the best Portable Cell Phone Signal Booster for Hiking. I have mentioned 13 top portable cell boosters on the market, supplied by some of the world's best companies.
However, they are more useful in camping areas because they cover a larger area than for hiking. Make sure to do a lot of research by reading the reviews mostly on boosters to find the one that works best for you. It's time to get your hiking gear ready because getting lost in the woods isn't an option now.
Portable cell phone booster for hiking, portable cell phone booster, portable cell phone signal booster, hiking cell phone signal booster, hiking cell phone booster, portable cell booster, portable cell signal booster, backpacking cell phone signal booster, cell phone signal booster for hiking, cell phone signal booster for backpacking, best portable cell phone booster, portable battery-powered cell phone signal booster, best portable cell phone signal booster, portable cell phone boosters, portable signal booster for cell phone, portable cell phone signal booster for camping, best cell phone signal booster for camping, cell phone signal booster portable, portable cell phone repeater, portable cell phone booster antenna, best cell phone booster, portable cell phone booster, portable cell signal booster, best cell phone booster for camping.
Was this article helpful?