How Much Does Spectrum Business Internet Cost?
It's hard to find anything like the low prices Internet offered by Spectrum's basic business internet services for small businesses. You can shop around for the right internet package for your business because it has high-speed plans and a small fiber internet footprint.
A wide selection of package options for companies to pick from sets Spectrum Business apart from the others. This gives businesses value and flexibility. There are several advantages to choosing Spectrum Company Internet, whether a medium or small business requires the best and fastest internet access in your region.
We'll see how much Spectrum Business Internet costs you in this post. And, more importantly, is Spectrum Business worth it?
Spectrum Business Internet – What is it?
Spectrum Business is a part of Charter Communications, an ISP that serves companies in 43 states in the US, more than almost any non-satellite internet service provider in the US. In most cases, the company's internet connections are made using the same coaxial wires people use for their televisions.
Fiber-optic connections1 are relatively rare, despite Spectrum's offering of service in several urban areas. You may check the company's website by inputting your ZIP code to receive a thorough list of all locally available data plans and prices to see whether their business internet is accessible in your region.
With Spectrum Business2, companies have the freedom to customize their bundles to meet their specific requirements while also taking advantage of the best value and flexibility available. Thanks to package choices, a single monthly payment may cover all of a company's needs, such as TV subscriptions and cell phone service. Businesses may save money and time by using this method.
Everything they provide comes with additional services and complimentary tech packages that allow you to get the most out of your internet subscription. Internet speeds range from 3Mbps to 25Mbps; long-distance phone calls are unrestricted, and TV channels are available on more than 40 channels.
Before Choosing Spectrum Business Internet
What we enjoy about Spectrum is detailed in the sections above. There are, of course, certain drawbacks and flaws to consider. Spectrum business internet has both good and bad things about it. This is a quick look at the good and bad things about it.
Spectrum Business has a lot of good things:
Great bundles with things like phones and other things you need for work.
43 states in the United States have it.
High-speed internet that isn't too expensive.
If you just want to use the internet, there are no long-term contracts to sign.
Customers will be able to get out of their contracts.
Many stuff, like internet service and WiFi for customers, is included for no extra charge.
A few things that could go wrong when using Spectrum Business:
With faster plans, upload speeds aren't very good.
Fiber is very hard to come by.
Customer service ratings aren't very good.
Spectrum Business Internet Plans – Best For NO Contracts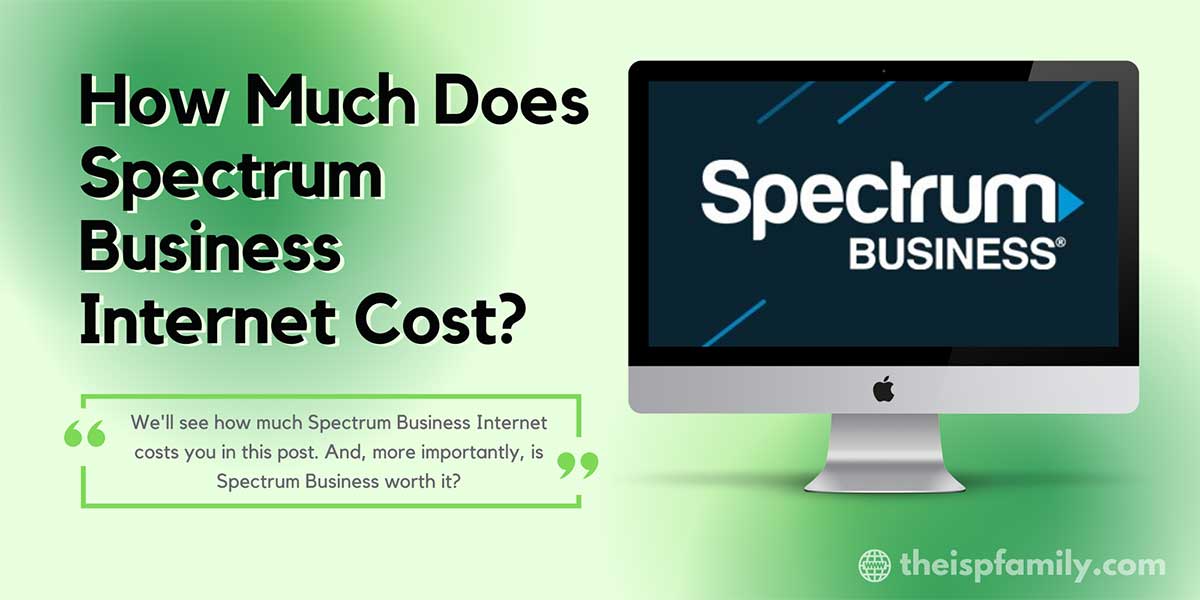 Good or bad, Spectrum Cable has a simple range of internet plans that you can choose from for your business.3 Cable internet plans can have download speeds that vary by up to 400 Mbps, but most of them have download speeds that are around 50 Mbps. We'll go through the company's fiber plans in more depth later.
100 Mbps download speeds are available in five different suites of spectrum internet, which can be bought in five different ways:
Business Internet 60
Business Internet 100
Business Internet 200
Business Internet 300
Business Internet 400
Below, you can see the prices for Spectrum's internet-only plans, which cost less. You can get a better deal if you get a phone or TV service together, but the deal only lasts for a year. However, you should go with the business plans instead of the residential ones because they can be used with extra services like public Ip addresses, 4G LTE backup, and private WiFi.
Spectrum Business Internet speed:
| Plan | Monthly starting price | Max download speed | Max upload speed |
| --- | --- | --- | --- |
| Business Internet 100 | $59.99 | 100 Mbps | 10 Mbps |
| Business Internet 200 | $59.99 | 200 Mbps | 10 Mbps |
| Business Internet Ultra 300 | $109.99 | 300 Mbps | 20 Mbps |
| Business Internet 400 | $109.99 | 400 Mbps | 20 Mbps |
| Gig Business Plan | $249.99 | 940 Mbps | 35 Mbps |
Is Spectrum Internet a good investment for your company?
In our opinion, that would rely on what kind of company or organization you run. For businesses, clubs, and restaurants in need of high-quality TV packages, Spectrum is an ideal option. Businesses that need to keep consumers occupied while they dine, buy, or wait for services might benefit the most from the company's numerous internet bundles, which include cable TV bouquets.
Offering both TV and Wi-Fi may increase these companies' value to clients. Spectrum's non-bundled internet services don't have data limitations, which may be a plus for certain organizations. Spectrum's corporate internet price is competitive, too, on top of the high speeds. Aside from its impressive array of tech features, the firm offers a wide range of single-package options.4
Spectrum's $59.99 a month business internet 100 package might be a good fit for your small company. With this plan, you receive up to 100 megabits per second of internet speed, enough to connect roughly 10 devices at once. If, on the other hand, you're a speed fiend, you'll want to go for Spectrum's $109.99/month Ultra plan. According to your location, you may expect download speeds of 300-400 Mbps with this package. Upload rates may range from 7 to 20 megabits per second. Connecting more devices and uploading huge files is possible using these speeds.
Spectrum's cable upload rates aren't much quicker than most of its DSL, but better download speeds make up for it. Spectrum advertises speeds up to 35 Mbps as the maximum upload speed. The advertised upload speeds may be lower than the advertised maximum upload speed since it is not average.
Spectrum's internet plans may cause problems if your organization relies on these services. Spectrum business internet upload speeds are almost the same across the company's plans.
As a result, we suggest that you only pay for faster download speeds when you need them. Aside from that, a company with poor customer satisfaction scores should give you pause.

The ISP Family
Is Spectrum Business Internet expensive?
That isn't the case. For most small enterprises, 100 Mbps is more than enough. All of these activities may be done simultaneously over a 100 Mbps internet connection.
Higher speeds aren't essential until at least 10 people are working on these jobs at once. The bundle packages that include other services are often a terrific deal, but they need a 12-month commitment.
Spectrum Enterprise Fiber Internet Plans pricing
Spectrum's fiber-optic network throughout the United States is constantly expanding to guarantee that you have access to high-speed internet options in your location. We could not uncover particular plans or price information by researching their fiber internet options. However, we could locate a map of Spectrum's fiber distribution network.
Check out the map on the company's website to see whether fiber-optic service is available in your area.5 To learn more, give the organization a call at 888-692-8635.
Charter Spectrum Business Internet Cost/Pricing
In many cases, internet service providers6 offer bundles for people who aren't just at home. Companies are smart enough to give you a discount if you buy many things together. Spectrum's business plans aren't bad and worth looking into. Some bundles combine good high-speed internet with TV services and long-distance phones or both.
Bundle Type
What You Get
What You Pay
Spectrum Business Bundle
1) 100 Mbps internet
2) Unlimited long-distance phone
3) Free Modem
4) Custom email addresses and domain
5) Security suite
6) Cloud backup
7) Customer WiFi
$74.98 per month
Spectrum Business Bundle Ultra
1) 300 Mbps internet
2) Unlimited long-distance phone
3) Email, domain, backup
4) Internet Security
5) Public WiFi
$119.98 per month
Spectrum Business Triple Play
1) 100 Mbps internet
2) Over 40 channels Free Modem
3) Custom email addresses and domain
4) Security suite
5) Cloud backup
6) Customer WiFi
$99.97 per month
Spectrum Business TV
1) 200 Mbps internet
2) TV with over 45 channels
3) Phone + service: unrestricted long-distance and local calls
$69.98 per month
Spectrum Business Entertainment TV
1) 200 Mbps internet
2) TV with over 80 channels
3) Phone + service: unrestricted long-distance and local calls
$89.98 per month
Spectrum Business Game Time TV
1) 200 Mbps internet
2) Over 110 TV channels
3) Phone + service: unrestricted long-distance and local calls
$149.98 per month
Spectrum Business Internet Technology
One of the best things about spectrum business internet plans would be that they give you free tech with them, which is a good thing. Also, you can buy paid services to make your business's website look how you want it to. We identified a firm offering the following technological advancements, ranging from web hosting to cloud backups:
Free Services of Spectrum Business Internet
1) Cloud backup: The company is giving you up to 100 GB of free cloud storage so that you can back up your important business data in the cloud.
2) Web hosting + domain name: This allows you to create and maintain a professional company website, as well as a unique domain name and 5 GB of online storage.
3) Email: Using your business domain name, you can get up to 25 email addresses with your own email address.
4) Modem: People who sign up for plans with speeds of up to 300 Mbps can rent free cable modems from Spectrum, the company that runs the service.
5) Uncapped data usage: Enables you to use as much data as you want on your business internet plan.
6) A unique internet security solution: Spam, spyware, and viruses are just a few online threats that can harm your business.
7) Wi-Fi: Spectrum gives your business a special Wi-Fi network only your customers can use. This makes them more likely to stay at your business.
Paid Services of Spectrum Business Internet
1) Static IP address: Spectrum makes it easy to host your business VPNs, server software, and other services with the same internet protocols for $14.99 a month.
2) Private business Wi-Fi: It allows employees and their devices to connect to a business Wi-Fi network only for them and their devices. Call Spectrum to get prices.
Spectrum Reliability and Support
Customer service and uptime didn't seem different from Spectrum's business internet service. If you run a business, your Internet service provider (ISP) should be able to keep your connection stable. Services like point-of-sale systems, email delivery and receipt, and file transfer can go down or be down at any time.
See how reliable Spectrum's business-category internet is for yourself.
1) Uptime and Latency
Our research shows that Spectrum's uptime and latency are down with downtime, so we can say that these things are not good.
Uptime is the percentage of time that you can work on the Internet. Even though we couldn't find the company's uptime legal service agreement on the internet, a customer service representative told us that Spectrum promises 99.9% uptime for business internet service.
The figure almost sounds right. However, our research shows that 99.9% is close to the industry standard, so that's what we used.
One more sign of reliability is latency. When referring to latency, also known as lag, is the amount of time it takes for just a single data packet to go from one internet service to another. You'll see many latency problems when you are video conferencing or streaming videos. Unfortunately, we didn't find out what Spectrum's average was. For another thing, there are no latency guarantees. The company you choose should be able to say that latency isn't an issue for your business if it is important.
2) Technical Support
An ISP's technical support is the assistance you can receive at any time. It's important to get help quickly if there are problems with your internet connection, so don't wait. Spectrum's customers in the United States can call for help anytime. Spectrum Business Support is also where the service provider has a lot of articles and answers to common tech-related questions.7
3) The Fine Print
Before you sign up with any internet provider, look into their prices and other things that aren't on the sticker price. To help you understand Spectrum's fine print, here is a list of everything you need to know about it, from equipment to contracts to fees.
4) Equipment
Like most ISPs in its class, Spectrum will give your website a free cable modem, unlike most of them. It might make up for the fact that Spectrum doesn't let customers use their TV set or modem even during the limited-time trial.
5) Contracts
Spectrum is one of the few ISPs offering business internet with many contract-free options. AT&T is also the only company we've looked at with no-contract business internet plans, but only for its fiber plans. To make it easier for you to switch to a new company, the company will buy your old contract for up to $500 and the contract-free option.
A business can try out any of Spectrum's business internet plans for up to 30 days. After 30 days, if you are unsatisfied with the service, you may return your equipment and get a full refund from the service provider. However, the $99 installation fee can't be refunded.
6) Fees
The company charges $99 for the first time you use the internet service. The price is less than what many other products in its class charge. Our search didn't turn up any information about how much it costs to leave the company.
The Takeaway
Spectrum Business Internet is an excellent choice for newer, smaller businesses that don't need a lot of internet speed. Spectrum has a wide range of fiber plans that are cheap and easy to use.
If you don't mind the bad customer service ratings, Spectrum Business Internet has some options that are both cheap and fast for your business. However, you should also remember that some reasonably priced plans don't require a long-term deal. If you have an urgent problem, you can withdraw under their terms & conditions and not be charged.
The bottom line is to carefully assess your wants and demands with your budget if you decide to go with Spectrum Business Internet.
Frequently Asked Questions
Can I get Spectrum business internet at home?
Most internet service providers charge more for business internet packages that come with a lot of great features, like no data caps, throttling, and faster speeds. The chances are that you can get a business internet plan even if you don't own a business.
Is the spectrum business internet faster than residential?
One of the main differences between business and residential internet is the price. The cost of business internet is usually higher than the cost of home internet because there is less latency, less packet loss, and faster speeds.
How much is the internet for a small business?
For a small business, the cost of the internet will vary based on what the business needs. Each ISP has a variety of business internet plans that can meet the needs of businesses of all sizes, from small businesses to well-known corporations. For example, Verizon's Business Internet 1 costs $39.99 a month, but you can get it for less than that.
How much is business internet monthly?
There are a lot of basic internet plans that start at about $50 a month, like Frontier's FiOS 30/30 business plan, which starts at $49.99 a month. On the other hand, top-notch internet packages with a lot of data and faster speeds are likely to cost between $60 and $100 a month.
Can I use my own modem with Spectrum Business?
No. Spectrum Business users have to use the modem that the company gave them to use. There are problems with modems that Spectrum's customer service team can fix quickly, but Spectrum doesn't help with personal modems. When you sign up for Spectrum Business Internet, the modem that comes with it is free of charge.
What is Spectrum Business WiFi?
Spectrum Business WiFi is a part of your Spectrum Business plan that provides clients with free public WiFi connectivity in waiting rooms or other places of your business. The Spectrum-managed free WiFi is safe and separate from your business network, so there is no risk of a security breach through the public WiFi.
How good is Spectrum Business customer service?
It's possible to get help from customer service at any time of the day or night by phone. The staff is always polite even if they can't help you right away, and they try to be helpful even if they can't help you right away.
Was this article helpful?