Spectrum Internet Installation Fee Waived 2023 (Best 5 way)
Third-largest internet service provider Charter Spectrum is readily available throughout the United States; however, its primary coverage is concentrated in California, New York, and Texas. Because the company is so big, they have a limited number of high-speed broadband cable as well as fiber internet plans. Cable internet is available all over the place, but fiber options are still a little limited for the company. Here we learn the best 5 ways to Spectrum Internet Installation Fee Waived in 2023.
About Spectrum Installation Fee
The Spectrum installation fee is a one-time payment, if you're like most people, you will rather not pay for it. Can't the Spectrum installation fees be waived? In general, Spectrum doesn't waive the installation fee. But there are some tricks you can apply to either reduce the amount or get a total waiver. This post outlines some possible ways to get the Spectrum installation fees waived.
When you find a package that fits your home and its price, you will be more than happy. Then, soon after, you get your monthly bills and find yourself in a sticky situation. With many changes that you didn't even think of when you did sign up, you end up spending twice as much money. Just so you don't have to go through that, let's understand more about the Spectrum Internet Installation fee.
Spectrum's Internet-only Price
Spectrum has different infrastructures in different parts of the country, so the speed of the internet varies based on where you live. A lot of people don't have the same internet speed and telecommunications service because of how network companies like Time Warner Cable and Bright House were set up before they joined forces with Charter. If this is the case, you might be paying the advertised rate for speed that isn't what you thought it would be. Then, you might want to think about what else you could do.
The standard price starts to come in a year or two after you sign up for a package. This is based on the package you choose. Besides, to cancel your subscription, you don't have to pay any extra money.
You can choose from many other internet packages, but it all depends on where you live. Most people can only use the plan we talked about above. There are plans for Spectrum's network to be upgraded to provide speeds of up to 940 Mbps to a broader audience. These speeds are only available to a small group of people using the service. It costs $69.99 and $104.99 for Spectrum Internet Ultra and Spectrum Internet GIG, which have speeds up to 400 Mbps and 940 Mbps, respectively, in some places.
How much is the Spectrum installation fee?
When you sign up with Spectrum, you pay a one-time fee of $49.99. The Spectrum installation will include the work done by the person who comes to your home to finish installing the equipment at your home.
As a matter of fact, the spectrum $200 installation fee is a lot less than the fees charged by other cable service providers. You might consider buying a self-install kit if you don't want to pay the Spectrum internet installation fee. Doing it yourself isn't too hard or complicated. If you're sure you can do this alone, you might want to do it.
Fees for Spectrum Internet's equipment are free
There is no extra charge for using Spectrum internet equipment like there is for Spectrum TV packages. It all comes with the package. However, if you want to use your personal router or modem, you can do so. It's possible that you'll be able to do better, but that's not always true.
Adding in-home Wi-Fi costs Spectrum $5 per month, but you can do it for free with Spectrum. To get Wi-Fi signals, you need a router. The modem is the device that connects your home to your cable system. This raises the question of why anyone would pay for Spectrum to give them Wi-Fi in their home. However, the charge for Wi-Fi is for your modem's built-in router service.
If you don't want to pay this fee every month, you should buy a Spectrum-compatible router. Keep in mind, though, that Spectrum would not be able to help you if there is a problem with the equipment.
5 Ways To Get Spectrum Installation Fee Waived 2022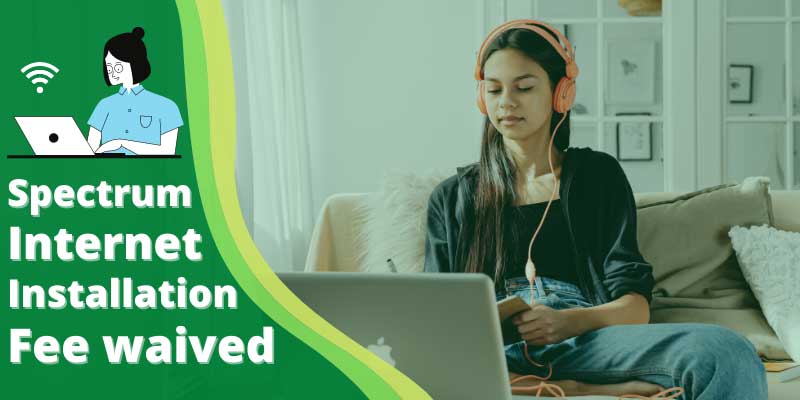 Spectrum charges $49.99 for installation. Spectrum also charges you $9.99 to set up Spectrum Wi-Fi after you set up the internet service, but this isn't the only thing. So, you might think of avoiding the installation fee for good. These are three possible ways you can reduce or waive the Spectrum wifi installation fee.
1) Option For the Self-Installation Kit
To save money, you can put the spectrum kit in yourself. It will waive some spectrum internet fees for you. To use this option, you order the Spectrum kit and have it sent to you, or you go to the store and get it. To set up on your own, you'll pay just $9.99. Which means you can save $40. As part of its self-installation kit, it comes with these things:
Ethernet Cable
Coax Cables
Cable box
Modem
Coax Splitter
Spectrum return card
Spanish and English Instruction manual.
It doesn't matter if you don't know how to do anything with technology to install the kit at home. The guide on this site can indeed help you finish the process.
2) Free Installation Promo
Spectrum sometimes gives new customers who sign up for service-free installation deals. There is no charge for this service. You will also get the free installation promotion if you sign up for one of Spectrum's special package deals. Check the Spectrum package price page to see if there are any free installation packages.
3) Upgrade or add another Spectrum Service
Okay, this is a way to spectrum activation fee waived, not completely waive your installation cost. So this is the best way to get Spectrum Internet installation fee waived with some percentage. If you need more data or another package for your family then you can go with this.
3) Contact Customer Representative
There is another option. You can ask one of the Spectrum customer service representatives to waive the fee for you. For the customer service professional, it's all about justifying why the installation cost should be canceled in your case. Some people have been given a 50% discount by customer service. But it also depends on how well you can make the customer service rep see that the installation fee should be waived for you.
5) Connect with the Retention Department
If you're not getting the desired result with the customer representative, you can request to be transferred contact to the retention department. The retention department representatives are supervisors and can influence decisions like fee waivers because of their higher authority.
FAQs about Spectrum installation Fee
Will the Spectrum replace my router for free?

It is very common and the service is often cheap and easy to use. Spectrum has a problem that many people have: using their modem/router combo. For free: Spectrum will say the device is yours. Spectrum will inform you that the gadget is free, but you will have to pay $5 per month to use the wireless router.

Why Does Spectrum Charge a Self-installation Fee?

Spectrum hasn't made a public statement about why they charge for self-installation kits, so we don't know why. But we think they charge the fee to cover the cost of getting the kit to your home or to a nearby Spectrum store.

How to cancel Spectrum Internet?

The best thing to do is to phone Spectrum and tell them that you're canceling your internet subscription. The company will either ask you why you want to cancel your service or send you to their "retention center," where they will make you an offer.

How Much does Spectrum Charge to Run Cable?

Spectrum TV promotional cost is $49.99–$99.99/monthly. Spectrum offers the best pricing for its cable TV package.

How Much is Spectrum DVR monthly?

Spectrum DVR's monthly fee is $4.99/mo.

Does Spectrum Charge for Technician visit?

If the issue is quite simple and can be solved over the smartphone, there is no charge for that. Otherwise, if there is particular work required, such as running new internet lines through the wall or fixing the wi-Fi Data lines, you might have to pay charges.

Does Spectrum charge for installation?

In general, Spectrum's One-time Installation Fee is $49.99.
But, If you want to avoid the fee, you could opt to use the Spectrum self-install kit.

How much does it cost to install spectrum Internet?

1) Pro install fee is $49.99
2) Self-install fee with service activation $19.99
3) WiFi Pod install fee is $49.99
4) Service activation fee is $9.99

Does Spectrum charge for a modem?

Spectrum includes a free modem with all of its home internet plans, but if you don't have a router of your own, you'll need to pay $5 per month to rent one.
Parting Words
The best thing about using Spectrum TV or the internet is that it's very cheap compared to other providers. Moreover, even though the Spectrum installation fee is one-time and isn't hidden if you're like most people, you'd rather not pay for it. Because of this, I decided to write this article. Hope you've some kind of clarity about the installation fee after reading the post.
Was this article helpful?