What Devices are Compatible with Spectrum TV App in 2023?
At first, cord-cutting meant depending on on-demand options; cable and satellite would be the only legal ways to watch live TV. Those days are over thanks to the development of the "skinny bundle," which has created an economic boom in a market that didn't exist before.
Spectrum TV is the latest company to offer a skinny bundle. Spectrum was always ahead of the curve when it refers to client satisfaction. Many options are available, both for individuals who already have a cable TV subscription and those who wish to get rid of it. With the Spectrum TV App, Spectrum subscribers can enjoy another perk.
But What Devices are compatible with Spectrum TV App? Let's find out what's going on.
What is the Spectrum TV App?
Charter Spectrum's new Spectrum TV app has given regular cable TV viewing a whole new perspective. By downloading the Spectrum App to your internet-connected device, you can now access live TV, a huge amount of On-Demand content, Cloud DVR, and many network apps. This makes watching TV quicker and easier. This gives you more access and convenience because you can change the settings on your DVR and record the shows you want.
What are the Features of the Spectrum TV App?
Watching your favorite programs and movies has never been easier thanks to the Spectrum TV App. In order to maintain a constant connection, you'll want to ensure that your internet connection is solid and stable.
Boredom will not really matter where you are, since you have everything you need to keep yourself entertained in the grip of your hand. When it comes to getting what we want, it's no longer a question of "if," but rather "when." With super-fast internet, the Spectrum app is indeed a jackpot for everyone.
Using the Spectrum TV app, you can watch TV at Home
The Spectrum TV app's most obvious use is to let you watch TV on a tablet or mobile device, but that's not all it can do.
You don't need any extra hardware when you use the Spectrum TV app at home. For example, you won't have an extra cable box collecting dust or adding to your bill. The app works like the box, but it sits on your streaming device's screen with Netflix and Hulu instead of on a shelf.
With the Spectrum TV app, you can also mark your most-watched channels as favourites to get to them quickly. You can also control your DVR settings and recordings and parental controls.
Using the Spectrum TV app, you can watch TV anywhere.
The Spectrum TV app can't do as much when you're not connected to your residential Spectrum internet network. Depending on where you live, you won't be able to watch some local but also cable channels on the go. The same goes for records as well as the content.
Spectrum TV App with TV Choice Plan
As an alternative to the conventional cable TV package, Spectrum TV Choice is a streaming-only subscription for Spectrum internet subscribers. For $29.99 a month, Spectrum gives you access to 10 à la carte cable channels, as well as any local channels that are accessible.
Even though Spectrum's cable rates are more expensive, you get more sports channels with the skinny-bundle Choice package. Streaming TV providers like $20-a-month Philo allow you to watch up to 50 additional channels, but they don't carry any sports stations.
Spectrum TV app content filters and parental controls
Based on what TV and movie rating boards say, the Spectrum TV app could be set up to block content with adult situations, nudity, or violence. Some channels and times of day might be limited, while others can be completely blocked.
The user has to set a four-digit PIN that controls parental controls. On-demand access to movies and TV series needs a different PIN.
How much does the Spectrum TV App cost?
Even though it's common knowledge that nothing worthwhile comes without a price tag, Spectrum TV App is an exception to this rule. How? Because Spectrum subscribers get it for free for those who pay for a Spectrum package. So you don't have to pay extra money to download the app. It's mind-boggling that you can get all the amazing TV programs, On-Demand episodes, movies, and much more for free from any area you like.
Requirements to Access the Spectrum TV App
You will need to input your Spectrum account information to use the Spectrum App. You could indeed start by going to Spectrum.net/login and making a username and password for Spectrum. The next step is to log in to the Spectrum TV App. This could take up to 72 hours for your account to be activated so you might finally use the Spectrum App.
For the app to work, you'll need the following items, as well as your Spectrum username and password:
A connection with a speed of 10 to 15 megabits per second (Mbps) is recommended.
You have to pay all of your Spectrum bills.
You must have a real device that can connect to the internet and that works.
If you're at home, you can use your Android or Apple phone's location settings to access all of the channels included in your subscription.
Some channels may not be available to you while you are away from home, so be aware of this. You can change your settings to get the most channels.
Outside the United States, the Spectrum TV app would not work.
For the Spectrum TV App to work, you must have a device that can run.
What Devices are Compatible with Spectrum TV App?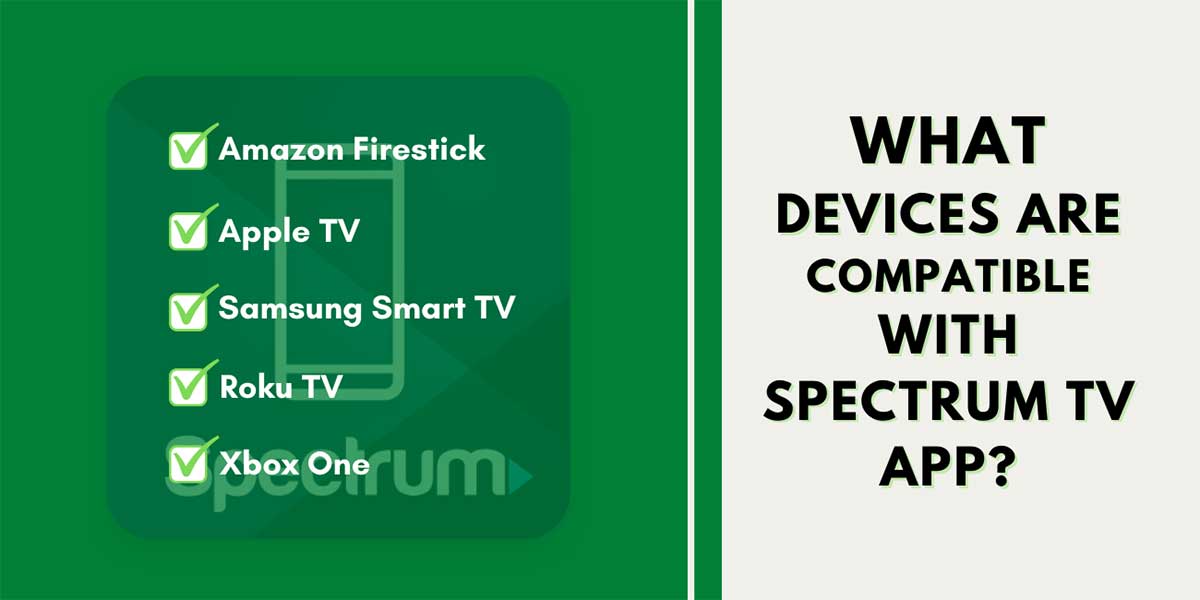 Spectrum TV's app is compatible with almost all types of devices, so there's not much to be concerned about. This list shows you the spectrum TV app compatible devices for 2023.
1) Spectrum TV App on Firestick
Except for the original Kindle Fire, Spectrum TV App works with nearly all Amazon devices. You may also get the Spectrum TV App and use it on any other Kindle Fire.
Your Kindle Fire's Settings> Device> About and System version will tell you whether or not it is compatible with the Spectrum TV App. You can use the Spectrum app on your Kindle Fire if the value is larger than 6.
Although comparable to Firestick in some ways, this software is unique in that it gives you free access to hundreds of thousands of on-demand TV series and movies and additional features that will improve your TV-watching experience. For free, you can watch all of those TV episodes and movies and other services on the road if you download the Spectrum TV app for Firestick.
> Download Spectrum TV App for Amazon Firestick
2) Spectrum App on Android Devices
There are more than 2.5 billion active Android users in 190 countries worldwide. Several big companies focus on making Android phones and tablets. The list includes a few more than Samsung and HTC. Their hardware and software parameters are unique for each one. However, there are numerous similarities across all Android OS because they are all merely variations of Google's Android OS architecture.
Google Play is one of the options you'll have access to. The Spectrum TV app is one of this collection's dozens of entertaining and unusual applications. You can use the Play Store app without issues if you have an Android phone or tablet.
> Download Spectrum App for Android Device
3) Spectrum TV App on Apple TV
Unlike Android, the only way to use iOS is if you have an Apple iPhone or iPad. Apple's closed-system approach to current technology has earned them a prestigious place in the IT industry. Because of this, only a few applications are added to Apple's native App Store for iOS, which is a huge benefit to users.
To further its closed system concept, Apple removes low-quality applications often from its ecosystem. The Spectrum TV App is a sure sign of an excellent user experience since it appears on the App Store of your mobile device. Most iOS devices currently in use with a recent operating system are compatible with the App.
You can download the Spectrum TV App on Apple TV from the Spectrum website or app store.
4) Spectrum App on Xbox One
Most people are surprised to know that Spectrum has a dedicated Xbox One app that you can operate on the console. Additionally, you'll get access to great services like Live Content streaming and on-demand video via the Xbox panel and the ability to manage your membership from the console.
Apps for Xbox One may be more reliable, but this one isn't. It might crash or stop working at random moments. Spectrum TV App is available on all Xbox One models.
> Download the Spectrum App for Xbox One
5) Spectrum App on Samsung Smart TV
Even though Samsung is Apple's greatest rival in the smartphone and tablet business, the South Korean company doesn't simply produce smartphones and tablets. Besides the Samsung Smart TV, the company's other products include a wide variety of others.
The provider's TV App is available on all models that were released in 2012 or after. The software may be found on the Smart TV's app store and downloaded there as well. What's the use of a smart TV if you already have an excellent one in your living room?
There is no need for extra cable boxes or connections to bring your entertainment to different rooms in your home. Your subscription credentials are all you need to sign in to the app.
> Download the Spectrum TV App for Samsung Smart TV
6) Spectrum App on ROKU
Since the initial generation of Roku devices, they have become a household name. In spite of the fact that the TV App was not accessible for First-Gen Roku devices, the app is now available in the Roku Store.
The TV app on the Roku device can watch live broadcast TV, so no additional hardware is required.
7) Spectrum App on LG Smart TV
As long as you don't mind a little more money spent on entertainment, the Spectrum TV app is the perfect solution for you. It's a bummer that Spectrum TV doesn't have an app for LG Smart TVs. As the LG Smart TV uses webOS, there is currently no official support for the app. But don't worry. This does not prevent you from using your LG Smart TV to enjoy Spectrum Cable programming. If you have a streaming device, you'll be able to join in on this party.
8) Spectrum App on Vizio Smart TV
The Spectrum TV app can be installed on the Vizio Smart TV and you can enjoy a fantastic streaming experience. You know that Vizio has a smart TV for everyone: Vizio SmartCast TV & Vizio Internet Access TV. It's a shame that the Spectrum TV app isn't available on any of these TVs. However, you may use the SmartCast function on the Vizio TV to stream the Spectrum TV app on your phone to the screen.
9) Spectrum TV App on PC
Despite the fact that Spectrum TV's app is accessible for a wide range of devices, it is not compatible with desktops. There is still a method to run the Spectrum TV App on your computer, however, if you really want. It is compatible with Windows 7, Windows 8, Windows 10, Mac OS X, and other operating systems. BlueStacks, Spectrum TV APK, and a high-speed internet connection are all you need to do this.
Download the Spectrum TV App (video)
How to Use Spectrum TV App?
Now you know exactly what devices are compatible with the spectrum tv app. In this section, I share with you how to use the spectrum tv app on these devices perfectly.
First, Create your Spectrum Account:
Manage your Spectrum account: (You can also manage your spectrum account at Spectrum.net)

make a payment

View your bill
enroll in Auto Pay
edit your existing Auto Pay
enroll in paperless billing etc.

Understanding Your Spectrum Bill:

Your first bill will include services, equipment lease fees, installation charges, taxes, and any prepayment. After then, bills should reflect current charges.

Paying Your Spectrum Bill:

Go to the Spectrum.net/BillPay and sign in to your account.
Now Enter your payment information.
If you want to enroll in Auto Pay, check the automatic payments box.
Select Make Payment to complete the transaction after reviewing the payment information. Before finalizing your online payment, review all of your payment information.

Programming your Spectrum Remote:

Turn on your TV
Press and hold the MENU and OK buttons on the remote at the same time until the INPUT key flashes twice.
One time, press and release the power button on the TV.
Find your TV's brand in the chart. Press and hold down the digit key that corresponds to your TV's brand.

TV Brand – Digit
Insignia/Dynex – 1
LG/Zenith – 2
Panasonic – 3
Philips/Magnavox – 4
RCA/TCL – 5
Samsung – 6
Sharp – 7
Sony – 8
Toshiba – 9
Vizio – 0
Note: If you're still having trouble using your remote, check out Spectrum.net/Remotes for more information.
Parting Words
Spectrum TV app is the best way to satisfy all of your entertainment demands while giving you the most freedom and comfort. The fact that it's free when you sign up for Spectrum makes it more interesting. You can always call Spectrum's customer service if you have any questions about the installation process, whether your devices are compatible, or if you are having any other problems. They will help you right away!
You've got nothing to lose. Just get started now! Enjoy endless enjoyment and the best content available on all your favorite channels when you download the Spectrum TV App on a compatible device.
FAQs about Spectrum TV App
Why can't I get the Spectrum App on the Amazon Firestick?

Because you can't have the Spectrum TV app from the Amazon app store, you'll need to side-load it. This will let you use your firestick to watch Spectrum TV shows.

Is it possible to use a PC for Spectrum TV App on Your PC?

The Spectrum TV app can be used on many different devices, but it can also be used on a computer. Just install it and operate it on platforms with Windows 7, 8, or 10. Also, you can use macOS, etc. You will also need an Android emulator, like BlueStacks.

Does Google TV support the Spectrum TV App?

Yes. With Google TV, you can put the Spectrum TV app on your Chromecast and use it.

How many devices can use the Spectrum TV app at once?

The Spectrum TV app can be used on as many devices as you want at the same time on your home internet network. Outside of the network, you can only use three streams at once when using Wi-Fi or cellular data.
Was this article helpful?