Fidium Fiber Vs Optimum: Which ISP is Best For You?
Are you fed up with your current ISP's poor service and looking to switch it? Two prominent players in this space, Fidium Fiber, and Optimum, are worth considering then. Both have everything you could ask from a home internet service provider.
As both ISPs offer different features and services, they also have differences that can affect your digital experience. Comparing Fidium Fiber vs Optimum will give you a clear idea of ​​their distinct differences.
This article will delve into a comparative analysis of Fidium and Optimum. We explore the digital delights that Fidium Fiber and Optimum have extended to their users. Read on to decide which ISP aligns better with your investment needs.
Fidium Fiber Vs Optimum: An Overview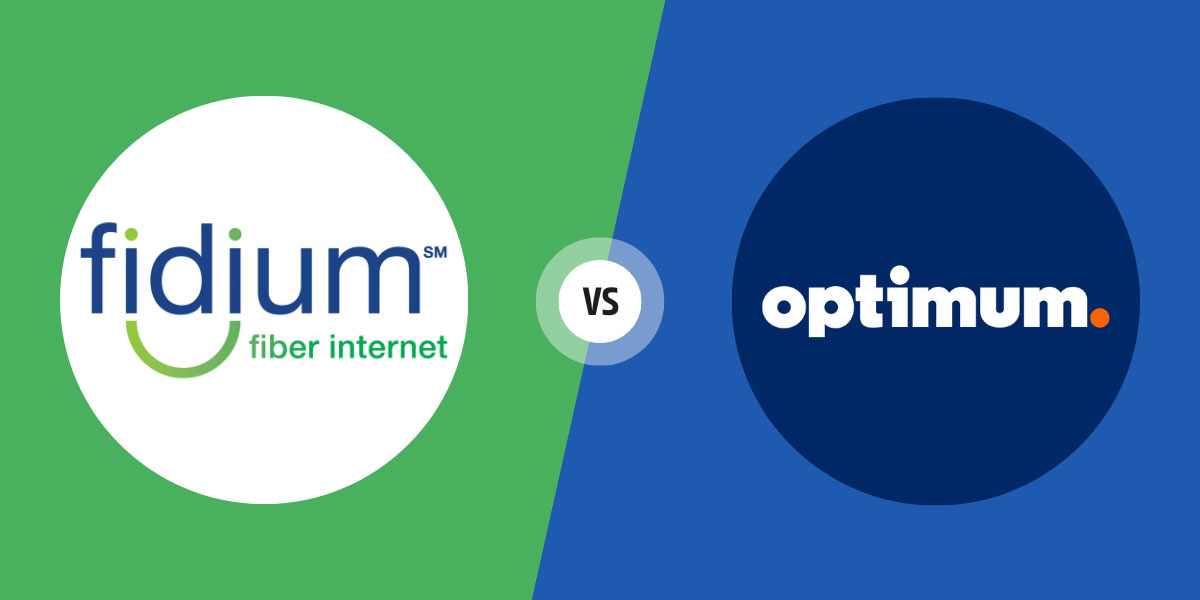 Fidium Fiber is a customer-centered fiber broadband service that offers symmetrical multi-gig speeds and exceptional service. Conversely, Optimum is a high-speed broadband Internet service provided by Altice USA.
Optimum offers a variety of telecommunications and entertainment services to residential and business customers. Both ISPs are dedicated to driving your digital engagements to new heights.
Choosing the right ISP becomes especially critical as the demand for endless connectivity increases in today's fast-paced digital world. Thankfully, we have got your back. We analyzed both Fidium Fiber and Optimum in real-world conditions.
After months of testing both ISPs, we will unravel their offerings, strengths, and nuances here. This article will guide you toward a well-informed choice for your digital voyage. So, let's find out which ISP is better for most people.
Read also: Fidium VS Spectrum: Which is the Best ISP Provider?
Key Takeaways Based on Our Research
Fidium Fiber uses a 100% fiber-based network, whereas Optimum uses a fiber/cable network.
Both Fidium and Optimum offer 1Gig and 2Gig plans, but Fidium Fiber offers it at a cheaper price.
Fidium Fiber has a low-tier plan for households with 2-4 members requiring to connect 4-7 devices.
Optimum is one of the smallest providers in terms of the service area, yet one of the five largest cable providers in the country.
Fidium Fiber plans and Optimum plans all include unlimited data at no additional cost.
All the Optimum plans come with equipment at no additional cost.
The pricing for Fidium Fiber plans changes every year.
Fidium Fiber requires you to use their equipment, which is included in the service cost.
Customer service with Optimum is better than with Fidium.
Optimum Vs Fidium Fiber: A Brief Comparison
Topic
Fidium Fiber
Optimum
Technology
Fiber to the home (FTTH)
Cable or cable hybrid network
Connection Type
Fiber
Fiber
Release Date
2008 as Fair Point
2021 as Fidium
September 5, 2019
Download Speeds
50 – 2000 Mbps
10 Mbps – 940Mbps (HFC)
300 Mbps – 5Gbps (FTTH)
Upload Speeds
50 – 2000 Mbps
1 Mbps – 35 Mbps (HFC)
20 Mbps – 5Gbps (FTTH)
Latency (Ping)
5ms – 25ms
A bit high
Contracts Type
No
No contract
Data Caps
No
No
Package Prices
$35/mo. – $95/mo.
$24.95/mo. – $180/mo.
Fidium Fiber Vs Optimum: Speed Comparison
Internet speed takes center stage when comparing two ISPs. This Fidium Fiber Vs Optimum comparison is no exception. Fidium Fiber, as the name implies, emphasizes fiber-optic technology to deliver blazing-fast speeds.
Fidium Fiber aims to eliminate buffering delays and make latency a thing of the past. It has several packages ranging from 50Mbps to 2000Mbps. Their plans deliver 105% to 110% of the advertised speeds.
The cherry on top, it offers 100% symmetrical upload and download speeds. Upload speeds are equal to the download speeds as advertised. It's an excellent plus for streamers, gamers, and anyone who works from home.
Optimum Internet, too, boasts a range of plans catering to different speed preferences. They provide fast connectivity for all your online activities with a mix of cable and fiber technologies.
Optimum has different speeds available for both cable and fiber connections. They have cable and fiber plans with download speeds ranging from 10Mbps to 5Gbps. The upload speeds are not symmetrical to download speeds.
Read also: Fidium Fiber Vs Comcast: Which Provider Best For You?
Optimum Internet Vs Fidium Fiber: Internet Plans and Pricing
Optimum and Fidium has so many offerings when it comes to plans and pricing. Both have what you would expect from an internet service provider. Optimum offers a range of plans for cable and fiber users.
So, you get the flexibility to choose what exactly suits your need. Optimum has five plans for cable users, ranging from 10Mbps to 1000Mbps. They also have six fiber plans ranging from 300Mbps to 5Gbps.
All their plans are reasonably priced. The latest news is; they have launched an 8Gbps plan recently for severe internet users. You have to pay a few extra bucks to get this plan. However, Optimum has a 24-month price lock on their plans.
After 24 months, they charge $10 extra per month. Most users found their official website a bit tough to navigate. Hence, we included Optimum's cable and fiber plans and pricing below.
Optimum Cable Plans and Pricing
| Plans | Download speed | Upload Speed | Price | Data Caps |
| --- | --- | --- | --- | --- |
| Optimum 10 | 10 Mbps | 1 Mbps | $24.95/mo. | No |
| Optimum 20 | 20 Mbps | 2 Mbps | $25/mo. | No |
| Optimum 300 | 300 Mbps | 20 Mbps | $40.00/mo. | No |
| Optimum 500 | 500 Mbps | 20 Mbps | $60.00/mo. | No |
| Optimum 1 Gig | 940 Mbps | 35 Mbps | $80.00/mo. | No |
Optimum Fiber Plans and Pricing
| Plans | Download speed | Upload Speed | Promotional price for 24 months | Data Caps |
| --- | --- | --- | --- | --- |
| Optimum 300 | 300 Mbps | 20 Mbps | $40.00/mo. | No |
| Optimum 500 | 500 Mbps | 20 Mbps | $60.00/mo. | No |
| Optimum 1 Gig | 940 Mbps | 35 Mbps | $80.00/mo. | No |
| Optimum 2 Gig | 2Gbps | 2Gbps | $120/mo. | No |
| Optimum 5 Gig | 5Gbps | 5Gbps | $180/mo. | No |
Fidium Fiber has two different types of plans for home and work. Their home plans range from 50Mbps to 2Gbps. Fidium home plans are cheaper during a 12-months promotional period. You have to count between $35 to $70 per month.
After the promotional period ends, the price slightly increases. Moreover, Fidium has fast and reliable fiber plans to give your business a boost. Their work plans range from 300Mbps to 2Gbps.
However, you must pay much to get their strong and secure plans for your work needs. The starting plan costs $80/month, which is still higher than their 2Gig home plan. For the 2Gigs plan, you have to count $240/month.
Not to mention, Fidium work plans are fixed forever. Pricing with Fidium is actually average, not too high or not too low. During the promotional period, Fidium home plans are cheaper than Optimum fiber plans.
Read also: Fidium Fiber Vs GoNetspeed: Which ISP is Best for You?
Fidium Fiber Home Plans and Pricing
Plans
Download speed
Upload Speed
Promotional Price
Standard Price
Data Caps
50Mbps
50 Mbps
50 Mbps
$35/mo.
$55/mo.
No
250Mbps
250 Mbps
250 Mbps
$60/mo.
$85/mo.
No
1000Mbps
1000 Mpbs
1000 Mpbs
$55/mo.
$75/mo. 1st two year
$95/mo. After 2 year
No
2000Mbps
2000 Mbps
2000 Mbps
$75/mo.
$85/mo. 1st two year
$95/mo. After 2 year
No
Fidium Fiber Work Plans and Pricing
| Plans | Download speed | Upload Speed | Price | Data Caps |
| --- | --- | --- | --- | --- |
| 300Mbps | 300Mbps | 300Mbps | $80/mo. | No |
| 600Mbps | 600Mbps | 600Mbps | $140/mo. | No |
| 1000Mbps | 1000Mpbs | 1000Mpbs | $190/mo. | No |
| 2000Mbps | 2000Mbps | 2000Mbps | $240/mo. | No |
Fidium Fiber Vs Optimum: Availability
While Fidium Fiber may not be available in most areas, the brand is expanding and reaching new heights. Consolidated Communications has committed to bringing fiber connections to as many locations as possible by 2025.
Fidium is relatively new to the fiber market, so its rapid expansion is no small achievement. You can find Fidium Fiber in several cities in the following eight states.
Fidium Fiber Coverage
California
New Hampshire
Illinois
Pennsylvania
Maine
Texas
Minnesota
Vermont
Optimum has better coverage than Fidium, as it's a regional ISP. It is available in 21 states, serving more than 20.6 million people. You will find Optimum, most likely in New York, New Jersey, and West Virginia. Check if you are lucky to be in their coverage area.
Optimum Internet Coverage Area
Arizona, Arkansas, California, Connecticut, Fairfield, Idaho, Kansas, Kentucky, Louisiana, Missouri, Mississippi, Nevada, New York, New Jersey, Mexico, Oklahoma, Pennsylvania, Texas, North Carolina, Virginia, West Virginia, and Ohio.
Fidium Vs Optimum Internet: Latency
In an age where constant connectivity is paramount, stability comes on the scene. Fidium Fiber places a strong emphasis on network stability. With satisfyingly low latency, Fidium Fiber aims to provide consistent and uninterrupted service.
Optimum Internet shares a similar commitment to stability. Optimum strives to minimize disruptions and offer a seamless online experience. But, many users claim to have higher latency and, thus, a less stable connection.
Read also: Fidium Fiber Vs GoNetspeed: Which ISP is Best for You?
Optimum Vs Fidium: Installation & Equipment Fee
Optimum doesn't cost an extra charge for standard installation. You can order online to get Optimum service to your home. Professional installation with WiFi configuration costs you around $59 to $100.
They usually charge $10/month for a WiFi router or modem rental. There is no longer an equipment fee, as their plans come with a WiFi 6 router. This WiFi router performs much better than older routers.
Optimum Hidden Costs
| | |
| --- | --- |
| Installation | $59 to $100 |
| WiFi router/modem rental | Free or $10.00/mo. |
| WiFi extender rental | Free or $3.00/mo. |
| Network Enhancement Fee | $3.50/mo. |
| Late payment | $10 |
On the other hand, you don't have to worry about these fees with Fidium Fiber. They offer a free WiFi 6 Gateway with every Fidium Fiber plan. Also, they offer free professional installation.
Fidium Fiber Vs Optimum Fiber: Customer Support
When treading the digital terrain, reliable customer support is a lifeline. Fidium Fiber extends a hand through various support channels, assisting with technical issues and inquiries. Overall, they provide better support than Optimum and other providers such as Spectrum, Comcast, Verizon, etc.
Unfortunately, Optimum has taken a bad turn when it comes to customer satisfaction. Service reliability is most likely the biggest concern among customers. However, Optimum strives to emphasize customer care with its 24/7 phone support and online chat.
Read also: GoNetspeed Vs Optimum: Who Has Better Internet Service?
Who is Fidium Fiber Best For?
Fidium Fiber offers reliability, faster speed, lower latency, and solid performance without breaking the bank. However, the availability of Fidium Fiber might be limited to specific regions or neighborhoods.
If you are in their coverage area, it is wise to choose Fidium Fiber. Moreover, Fidium Fiber is best for;
Data-intensive users
Home offices
Small businesses
Online gamers
Content creators
Online education and e-learning
Cord-cutter or cord-never
Who is Optimum Best For?
Optimum is best suited for a variety of users and households, each with its own specific needs and preferences. ISP's offerings include different types of features for different types of customers. However, Optimum might be an excellent choice for;
Households with multiple users
Individuals and families looking for bundle packages for entertainment
Online gamers
Remote workers
Budget-conscious consumers
Streaming content
Final Thoughts
In the Fidium vs Optimum internet face-off, the choice ultimately depends on your unique needs and priorities. If blazing-fast speeds and fiber-optic technology are vital, Fidium Fiber might be your best bet.
Optimum can be an ideal match for those looking for low-to-high-tier plans with affordable pricing and bundle packages. Determine which best aligns with your digital goals to make your online journey smoother, faster, and more reliable.
Was this article helpful?